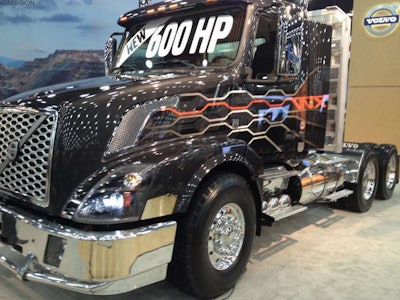 Volvo Trucks unveiled its new entry to the heavy-haul tractor market at the Mid-America Trucking Show last week, with the Volvo VNX, a high-performance model designed for extreme gross weight applications.
The truck's integrated powertrain features the newly introduced D16 engine with 600 horsepower, 2,050 lb.- ft. torque and I-Shift automated manual transmission and was developed for applications up to 225,000 pounds.
Volvo says its 16-liter D16 engine is the company's most powerful North American engine.
Available in 6×4 and 8×4 configurations, the Volvo VNX offers a range of heavy-haul components to ensure it's properly spec'd for the job.
The company also announced that it's automated I-Shift will become standard on all new trucks going forward.
The company says sales of its I-Shift reached record levels in 2012, with nearly half of all Volvo trucks built in North America featuring auto-shift.
Since its introduction in 2001, Volvo has sold more than 330,000 I-Shifts globally, and is currently building more than 80 percent of trucks globally with the I-Shift.
Market share of the I-Shift has steadily grown since 2007 and in 2012, nearly 60 percent of Volvo-powered vehicles built featured an I-Shift, the company says.
Göran Nyberg, president, Volvo Trucks North American Sales & Marketing says manual transmissions will still be available, but as an option.