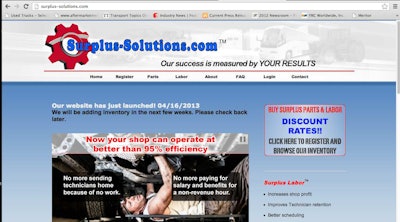 Two trucking industry veterans have launched a website aimed at putting wasted service hours and surplus parts inventory in the bank.
Surplus-Solutions.com is an online market place that links together buyers and sellers of surplus parts and labor.
Site co-founder Tom Brown, a veteran in sales for Caterpillar and others, along with his partner J.A. Kocan, Dealer Principal at Four Star Freightliner, say their site helps shops identify slow service times and helps them advertise the availability by offering discounted bookings to fill in the gaps.
"Unsold service hours are a perishable commodity," Brown says. "If you're slow for a period of time in the shop, you basically have two options: Send the techs home, or play them to clean something."
What Brown's site offers is a third option: discount the time during the slow period and fill it with customers.
For example, Brown says if you have 10 mechanics working 40 hours per week, you have to sell 400 labor hours to maintain 100 percent efficiency.
Shops that only sell 90 percent of those hours are losing 40 hours of labor sales per week. Assuming a burden rate of $70 per hour, the cost is $2800 per week, or $11,200 per month.
"Just a 3 percent increase in shop efficiency more than returns listing cost," he says.
Site listings are open to both dealerships and independent garages. Brown said all submissions would be fully vetted to assure that all those advertising service are qualified to perform the work.
Each listing will be categorized and searchable by state, zip code and industry key words.
An app is also expected to launch later this year, which Brown said would allow fleet managers and drivers to locate service discounts while the truck in on the road.
Surplus-Solutions.com also offers the capabilities for fleets, dealerships and shops to list their surplus parts.
Parts are sold via a quarterly online auction, often at steeply discounted prices.
"Most of these parts are surplus and have been written down and written off by dealers," he says. "They'll be sold at or even way below dealer cost."
Inventory not sold via auction will be made available to a wholesaler, Brown said.
In either case, Brown adds, Surplus-Solutions.com can help a dealership and garage move parts inventory.
"Busy techs sell parts," he says. "If you've got a bunch of something lying around, offer a weekly special on a service that uses that particular part. Or, of course, you can auction the inventory off."
Cost for listing parts varies from $50 for up to 50 items, to $300 for unlimited items. Brown says for dealership networks with multiple locations, the company doesn't charge an additional fee for the additional sites.
Labor listings are based on the number of technicians but can vary between $650 for a shop with up to three techs to $1000 for 10 or more.
The company expects to launch its first parts auction in September.