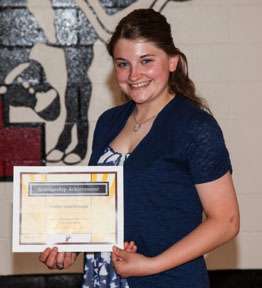 FRAM Filtration and its Luber-finer brand of heavy duty filters awarded a $1,000 National FFA Collegiate Scholarship Program award to Amber Scarbrough, a resident of Fairfield, Ill., and a 2012 graduate of Fairfield High School.
Scarbrough plans to continue her education at Wabash Valley College in Mt. Carmel, Ill., where she will focus on pursuing a two-year degree in Agricultural Business Management.
Luber-finer has been a sponsor of the National FFA and its Scholarship Program for more than 17 years. The National FFA was founded in 1928 as the "Future Farmers of America."
In 1988, the name of the organization was changed to the National FFA Organization to reflect the growing diversity of the agricultural industry. Today, membership exceeds 500,000 and the organization is part of agricultural-education programs at the middle and high-school levels throughout the United States. This year, more than $2 million in scholarship money will be made available to National FFA members through the organization's Scholarship Program with the help of sponsors like Luber-finer.
Scarbrough, the daughter of Michael and Lisa Scarbrough, was chosen as the recipient of the Luber-finer scholarship based on her 3.38 grade-point average, on a scale of 4.0. Scarbrough's aspirations are to enter a career as a business analyst.
Luber-finer serves the agricultural market with a broad line of heavy-duty filter applications. Luber-finer has been a proud sponsor of the National FAA Collegiate Scholarship Program since 1996. For more information on Luber-finer heavy-duty filtration products, please visit www.luber-finer.com or call (800) 851-3641. You can also follow Luber-finer on Facebook, Twitter, LinkedIn and YouTube.