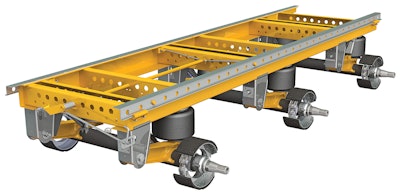 SAF-Holland has announced the availability of SAF CBX69 Tridem Slider Suspension systems for trailer applications.
The SAF CBX69 sets a new standard for light-weight tridem suspension slider axle systems. The CBX69 delivers the features and benefits of the proven and popular CBX40 in a triple-axle configuration. The lightweight CBX air suspension design and proven slider box technology brings superior durability with best-in-class weight savings. Additionally the slider box design provides an outstanding strength-to-weight ratio for increased cargo.
The system features the SAF X-Series 5.75" diameter axle with a lightweight, yet robust 11mm wall axle that allows for higher duty cycle applications. Spec'ing the system with optional SAF Integral Disc Brake technology shortens stopping distances for enhanced safety. Tridems also provide the versatility to move freight across international, provincial and state borders while maintaining compliance with bridge/weight regulations and Canadian SPIF "infrastructure-friendly' regulations.
The system is standard with Swing Align for quick and easy axle alignment and Black Armour metal treatment for the ultimate in corrosion protection. BLACK Armour is eco-friendly and when compared to galvanization is less expensive and lighter weight.