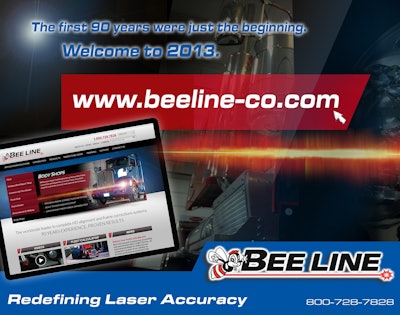 Bee Line has introduced a redesigned website, showcasing wheel alignment systems, elevated solutions for HD alignment shops and axle and frame correction equipment for heavy duty trucks and trailers.
Within the new website, you'll find the recently released LC7500 Series Computer Alignment Systems listed by market segment to easily locate the application solution that best meets your specific needs. Also featured are Bee Line's recently redesigned Space Saver Ramp and fully customizable Advanced Aligner Runways.
In addition to front and rear/tandem axle alignment solutions, various shop equipment is also showcased.
Bee Line's front and rear truck axle correction tools also are highlighted, as well as pumps, rams and frame correction solutions. Detailed call-outs and photos accompany each major system to emphasize all that makes Bee Line an industry leader.
Hands-on training courses, focusing on the principles and techniques of performing computerized wheel alignment and truck frame correction, are offered in Bee Line's fully equipped training center in Bettendorf, Iowa.
The website details these opportunities and allows technicians to enroll online. To be a part of the all-new Bee Line experience, visit www.beeline-co.com.