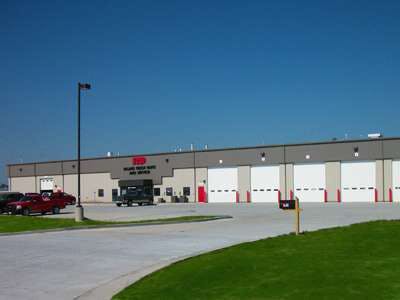 Inland Truck Parts has opened its 28th location with a new facility in Fargo, N.D. and re-opened its expanded distribution and service location in North Platte, Neb.
"From parts counter personnel to technicians, we're staffed with experienced pros who deliver best-in-class service. And of course, we're also fully equipped with state-of-the-art equipment," says Duane Parke, general manager at the new Fargo location.
Located at 3525 38th St. South in Fargo, the location is open 7:30 a.m. to 5:30 p.m. Monday through Friday. In addition to its parts and service offering, Inland says the Fargo facility also offers in-house remanufacturing, driveline and component repair that provide quality control and quick turnaround and a complete fluid power/hydraulics shop. Testing and repairs are available for hydraulic cylinders, pumps, valves, motors and more.
The overall Fargo facility covers 60,000 sq. ft. in two buildings, with a total of nine drive-in service bays.
The North Platte location has experienced a total makeover.
"We've grown from 12,000 sq. ft. to 26,000 sq. ft.," says Mike Hanner, the location's general manager. "That allows us to provide our valued North Platte customers with full drive-in service through six new service bays."
The former parts-only location provides service in a variety of areas, including alignments, DOT inspections, repairs and the latest technology in diagnostics, the company says. The expanded service department is overseen by Tim Hellbusch, service manager, while Ted Knox manages the component shop.
The North Platte location is found on Newberry Access Rd., south of I-80. Parts and service hours are weekdays from 7:30 a.m. to 5:30 p.m. and Saturday from 8 a.m. to 4 p.m.