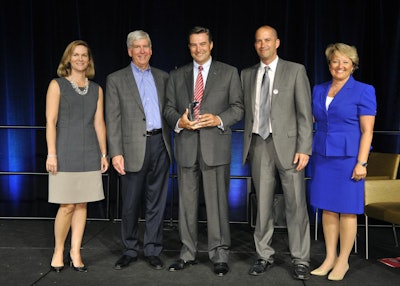 Eaton has received the Corporate Community Leader Governor's Service Award in Michigan for the support its truck operations in Galesburg, Mich. provide to that community.
The Galesburg campus, which serves as Eaton's Vehicle Group headquarters, works with more than 100 charitable agencies in southwest Michigan. Eaton and its employees provided nearly $600,000 in funding to these programs in 2012. In addition, Galesburg employees volunteer more than 10,000 hours of their time annually, the company says.
"It's an honor to be recognized for the Governor's Award for community involvement and leadership," says Tim Sinden, president of Eaton's North America truck operations. "At Eaton, we care deeply about the communities in which we live and work, and our employees are committed to making a difference through volunteerism and donations."
The Governor's Service Awards are an annual event coordinated by the Michigan Community Service Commission, the state's lead agency on volunteerism. This year's honorees were selected from more than 140 nominations submitted by friends, relatives and colleagues to pay tribute to individuals, organizations and businesses who exemplify the spirit of volunteer service, the company says.
Michigan Governor Rick Snyder presented the awards at a ceremony in Grand Rapids on July 23.
"We recently launched the Do Something, Michigan! initiative that encouraged Michiganders to volunteer and take action in their communities," Snyder says. "The 40 finalists we celebrated at the 2013 Governor's Service Awards are an extraordinary example of that Do Something! spirit. I thank them and all the state's volunteers for their contribution to our state."