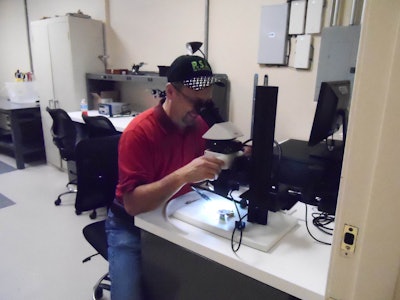 Pressure Systems International (PSI) has completed an expansion to its San Antonio quality control laboratory and product testing facility.
According to PSI, the expansion adds approximately 240 sq. ft. of floor space converted to accommodate new equipment that increases in-house capabilities to conduct root cause analysis, conduct testing to meet customer quality requirements and as part of any manufacturing improvement initiatives, and to qualify test equipment and components.
The expanded lab located within the San Antonio manufacturing facility also has been upgraded with state-of-the-art equipment and measuring devices, the company says. The laboratory is unique to PSI's single product, automatic tire inflation for commercial vehicles, which the company developed and patented 20 years ago. Since that time, the testing capabilities have developed along with the growth of the product demand both in the U.S. and worldwide, the company says. The updated facility also has received an ISO 9001, ISO 14001 recertification.
"Our quality record is really second to none for products manufactured here in San Antonio. But, we're never satisfied to rest on past experience. Much of this improvement and expansion was to upgrade in-house capabilities to have them closer to the manufacturing floor," says Charlie LaFuente, quality control manager/engineer at PSI.