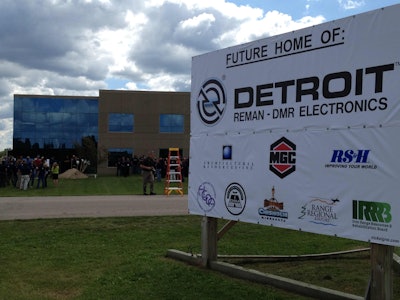 In the birthplace of Bob Dylan and Greyhound bus lines, Detroit Diesel Remanufacturing is positioning itself to be listed among Hibbing, Minn. favorite sons and daughters.
Detroit Reman announced Wednesday its plans to consolidate the company's electronics remanufacturing business into a single facility in the northern Minnesota city.
Currently, Detroit Reman's electronics division operates from several sites. The company says it hopes to have them all under the same roof by January 2015.
Stefan Kurschner, president of Detroit Reman, said the Hibbing facility has experienced significant growth since DMR Electronics was acquired by Detroit Diesel Remanufacturing LLC in 2007, and the company plans to immediately double the size of its new 30,000 square foot location adjacent to the Range Regional Airport.
"Detroit Reman is more than a remanufacturer of heavy iron," Kurschner says. "Through the growth and evolution of the Hibbing plant over the past six years and because of the creativity and passion of its employees, Detroit Reman has become an expert in the manufacture and remanufacture of high-quality electronics products."
[youtube k1mxzgW1s40 nolink]
The move to the new facility accommodates Detroit Reman's planned expansion and growth in Hibbing and retains 100 existing jobs. Kurschner said the facility's expansion also creates the potential for 30 to 50 new jobs within the next 3 to 5 years.
Detroit Reman's Hibbing facility remanufactures a complete line of electronic and mechatronic components under various brands, including the Detroit Genuine Parts brand for DTNA's on-highway market.
The current product portfolio includes new and remanufactured engine controllers, transmission controllers, vehicle controllers, turbo actuators, EGR actuators, variable pressure output devices, intake throttle controllers, instrument clusters and audio amplifiers.