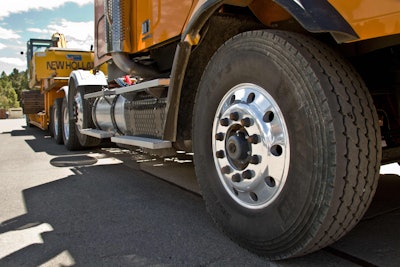 Michelin North America, Inc. announces it will continue providing tires to Yellowstone National Park by renewing its commitment to the Yellowstone Park Foundation (YPF).
Since 2008, Michelin has donated more than 1,400 tires to help equip Yellowstone National Park's fleet of 800 vehicles, which includes everything from patrol cars and garbage trucks to giant earthmoving vehicles, rotary snow plows and large load-hauling tractor trailers.
Through the partnership Michelin says it is helping Yellowstone National Park reduce its operating expenses and lower the park's consumption of raw materials.  The company also says it is helping the park lower its overall fuel consumption with the use of Michelin's industry leading green tire technology that it has been developing and refining since 1992.
This focus on efficient tire performance, as it relates to improving the park's sustainability, is significant given that, on average, Yellowstone vehicles collectively travel 3.75 million miles per year on the park's more than 420 miles of roadways.
"We began this partnership with the Yellowstone Park Foundation with the shared hope of boosting fuel economy to help the park reach its goal of reducing greenhouse gas emissions by up to 30 percent by 2016," says Pete Selleck, chairman and president of Michelin North America. "So far the results have been encouraging, and we are proud to renew our commitment to supply tires and expertise to the country's most revered historical national park."
Through its donations and work, Michelin North America has helped Yellowstone National Park save approximately $275,000 to $300,000 annually, which this year represents about a 12 percent reduction in the park's fleet and road maintenance budget, the company says.