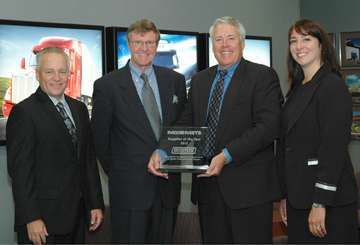 Horton, Inc. was recently named the 2012 Supplier of the Year from Paccar Parts.
The award acknowledges suppliers who demonstrate excellence in operational efficiency, parts availability, cost performance and program support.
In 2012, Horton participated in all PACCAR dealer events and provided training to more than 1,000 Kenworth and Peterbilt dealer personnel. The company offers training for a wide range of Horton products, including an on-demand DM Advantage On/Off and Two-Speed Fan Drive training program customized for PACCAR.
"We are extremely honored to receive the 2012 Supplier of the Year award from PACCAR Parts," Jeff Lindgren, Horton senior vice president of sales, says. "In addition to remanufactured fan drives, all-makes parts and aftermarket conversion kits, Horton offers PACCAR customers the broadest range of replacement fan drive technologies and high-efficiency fans to best meet their application requirements."