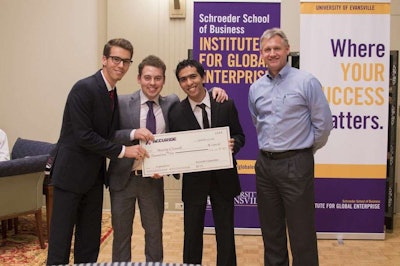 The Sharks, a group of four students at the University of Evansville, won a wheel design competition sponsored by Accuride Friday.
Jawad AlDhalemi, Andrey Biryuchinskiy, Suhrob Muratov and David Work took top honors among the teams charged with developing a lightweight aluminum wheel conceptual design that meets numerous technical requirements.
The winning team was compiled of majors from four different schools at the university, along with representing four different countries.
"The winning team was one of the most cross-disciplinary and cross-cultural teams in the competition, representing the Schools of Engineering, Business, Health Service Administration and Arts and Sciences," says Katie Ciccarelli.
AlDhalemi is a Computer Engineering major from Iraq; Biryuchinskiy a Finance and Economics major from Russia; Muratov an Accounting and Business Management major from Tajikistan; and Work a Health Service Administration major from the U.S.
"The Institute for Global Enterprise recognizes that this richness of diverse perspectives collectively tends to yield more creative and well rounded solutions, even to engineering or business based challenges," Ciccarelli adds. "This is the basis for our project-based solutions we offer to companies through our GAP Program."
Accuride provided a $1,000 scholarship donation to the University, which was shared by the members of the winning team.