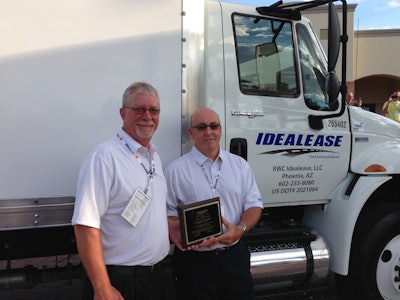 Idealease has named Eaton's Vehicle Group its Supplier of the Year for the second consecutive year, marking the first time in the award's 31 year history that a supplier has received the award in consecutive years.
Each year, members of the Idealease management team and partner representatives evaluate top suppliers based on a range of criteria, including new product development, product quality, customer satisfaction, field and warranty support, and a supplier's ability to meet these criteria on an ongoing basis.
[youtube SRs-sPpl8dc&feature=youtu.be nolink]
This year, 10 companies were selected as finalists with Eaton chosen as the overall winner.
"It is truly an honor to receive the Idealease Supplier of the Year award back to back years," says John Coll, vice president – Global Marketing Organization, Eaton's Vehicle Group. "This award is recognition of the dedication of our team throughout Eaton who are committed to making our customers and their satisfaction our top priority every day. Making our customers the focus of everything we do is a core value at Eaton, and I congratulate everyone on the team for a job well done and thank Idealease for this prestigious award."