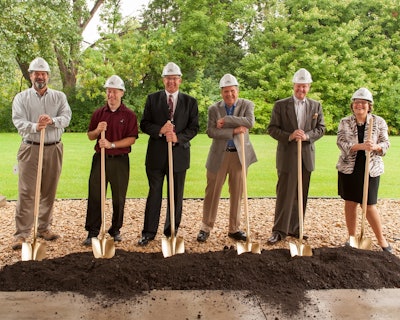 Horton, Inc. recently broke ground for on the expansion of its Roseville, Minn. corporate office and technology center on Wednesday, Sept. 18.
The construction expands the office and the Hugh K. Schilling Technology Center by 50 percent, the company says.
The ceremony was attended by Horton's Roseville employees, Horton, Inc. leadership including Hugh K. Schilling, chairman of the board, G. Henk Touw, president and CEO, Terry Gilberstadt, corporate secretary, and Chuck Bastien, test engineering and facilities manager; and the Bauer Design Build team of Mike Bauer, president, Craig Kohler, superintendent, and Brian Trombley, senior project manager.
"The expansion is a testament to the hard work and innovation of our dedicated employees," says Touw. "The extension of our corporate offices and technology center will allow Horton to continue to grow and satisfy the industry's changing requirements for efficient, optimized engine cooling solutions."             
The original building, which was constructed in 2001, was designed to accommodate expansion.
The two-story addition will be constructed alongside the current facility, with project completion scheduled for spring 2014.