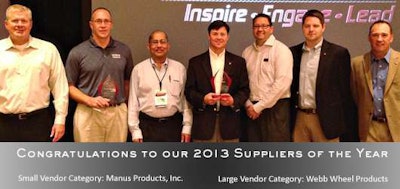 Webb Wheel Products (OEM Business Unit) and Manus Products, Inc. were recently recognized as Great Dane's Suppliers of the Year.
Great Dane's VP of Procurement Bob Brege says candidates for the awards were selected based on a formal survey scoring the company's top 100 suppliers at each of Great Dane's eight manufacturing facilities.
Based on that preliminary survey, 14 large suppliers (greater than $3MM in sales to Great Dane) and eight small suppliers qualified for consideration with overall scores of 90 percent or higher.
Webb Wheel Products was the winner in the large vendor category and Manus Products, Inc. in the small vendor category.
The two overall winners were ultimately selected by Great Dane's Corporate Procurement, Quality and Engineering teams based on scoring completed by representatives from each plant (including the plant manager, material manager, quality manager and engineering manager).
Suppliers were evaluated in multiple areas including Overall Quality of Product, Competitive Pricing, Timely Shipments, Accuracy of Shipments, Packaging, Response to Problems, Cooperation on Returns, and Technical Assistance.
"Our suppliers play an extremely important role in the success of our company, and in ensuring that our products and services remain the best the industry has to offer," Brege says. "Over the past year, both Webb Wheel Products and Manus Products have done a great job for us, and have distinguished themselves among a very impressive group of suppliers that we depend on every day.  We greatly appreciate their hard work and dedication and are pleased to recognize them with these awards."
Webb Wheel Products (OEM Business Unit) of Tell City, Indiana supplies Great Dane with hubs and brake drums which are used in the construction of Great Dane refrigerated trailers, dry vans, and platform trailers.
Manus Products, Inc. of Waconia, Minnesota supplies Great Dane with a wide range of bonding, sealing and gasket products used throughout Great Dane's three major trailer lines.