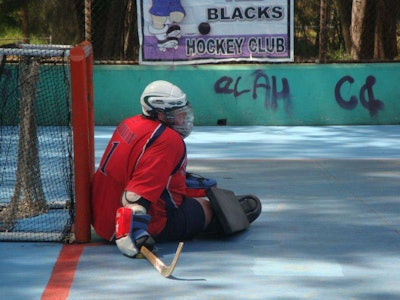 If you can't find Bill Mihay under the hood of a Volvo truck, find the closest roller skating rink.
A Volvo technician by trade for nearly eight years, Mihay has spent the last 10 months in the service department at TEC Equipment in Washington.
That's his real job.
His real fun job is goalie for the Washington Warriors, one of the best Rink Hockey teams in the U.S.
Mihay's post with the Warriors has led him around the world, earning him a spot on the U.S. Rink Hockey National Team. The team just returned from a fifth place finish in the World Rink Hockey Championships in Africa.
Not too bad for a guy who picked up the sport at 12 years old.
"I played roller hockey when I was a kid," Mihay says of a similar but completely different sport on wheels. "We moved and Olympia (Wash.) didn't have roller hockey, but they did have Rink Hockey and decided to give it a try."
Roller Hockey is distinguished by the use of inline skates. Otherwise it's a land-based version of ice hockey.
Rink Hockey, Mihay says, differs in that players use standard roller skates, and offensive strategy is a key component over brute force and power.
"There's no open hitting, but contact is allowed. Basketball is similar," he says. "We do a lot of pick and rolls on defense and a lot of the offense is based on basketball moves. Technique rules the roost. Power, strength and speed alone won't get it done."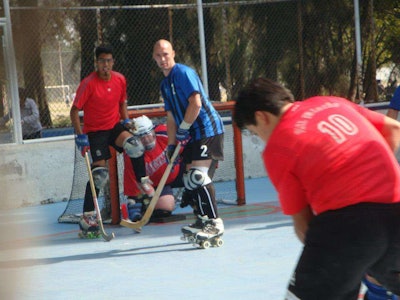 Players also wear minimal amounts of padding as they try to control a puck that's traveling in excess of 100 miles an hour.
"I'm a goaltender," he says of being a stationary target. "They really hurt."
The U.S. team took fifth place out of 16 teams in the world championships last month as a few members of the team battled injuries and illness. Mihay struggled with malaria.
"I played through it," he says. "I had to. I'm the goalie. If I'm not out there, we can't win."
The U.S. team is mostly compiled of amateurs. However, many of the teams they compete against globally are professionals Rink Hockey players.
"We all have jobs," he says. "A lot of the teams we play, that's all they do…Play and practice. We have to work."
Still, it was a strong showing for a U.S. team that won it all in 2008 and 2010.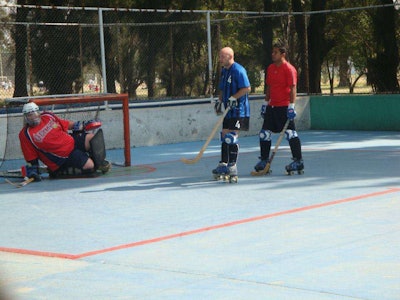 Mihay says one of the aspects of competition he loves most is the role his performance plays in the game's outcome.
"The one thing is the game always comes down to how I play," he says. "Regardless of how good my team is, if I don't play (well) we'll lose. I like the pressure. It's one of the toughest sports I ever played."
Mihay says TEC Equipment, whom he dubbed "like a second family," has been supportive of his pursuit of a world title, and he tries to bring the same pursuit of greatness to his job.
"One thing (Rink Hockey) as taught me is that you work hard and you play harder," he says of a mentality that he tries daily to bring into the shop. "I've always strived to be one of the better technicians."