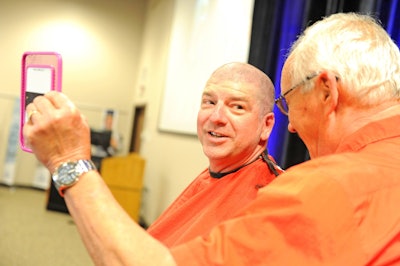 Employees of Bendix Commercial Vehicle Systems and Bendix Spicer Foundation Brake LLC annually show spirited support for the communities where they live and work.
This year the company says they took that dedication to a new level, raising more than $77,000 for the 2013 United Way campaign. The company recently celebrated the achievement, highlighted by Bendix Spicer Foundation Brake LLC (BSFB) President Eddie Wilkinson having his head and beard shaved.
Wilkinson challenged a group of Bendix employees across the country to achieve 50 percent online donation participation during this year's campaign, offering to give up his hair and longtime beard if the goal was met. The employees responded by nearly tripling their 2012 participation numbers, surpassing the participation benchmark, and helping to beat the 2012 campaign pledge total by more than $10,000. Bendix employees also topped their 2013 campaign goal of $75,000, raising $77,123, the company says.
As a result of employees meeting Wilkinson's challenge, his head and beard were shaved at the close of a companywide Town Hall event on Oct. 31, with a large portion of the Bendix workforce watching.
Wilkinson has been with Bendix since 1999 and was appointed president of BSFB in 2012. BSFB is a joint venture between Bendix Commercial Vehicle Systems LLC, the North American leader in commercial vehicle active safety and braking system technologies, and Dana Commercial Vehicle Products, LLC.
"Helping community organizations like the United Way is part of who we are at Bendix," Wilkinson says. "I wanted to help draw attention to this year's campaign while having a little fun with our employees. Of course, the Bendix team rose to the occasion. The generosity of our genuine Bendix workforce is simply amazing and something we're really proud of."
Along with the annual employee-run United Way campaign, Bendix employees also donate their time and talents to local schools and organizations such as the Friendship Animal Protective League, the United Way of Greater Lorain County, The Salvation Army's Angel Tree Program, the Second Harvest Food Bank, and the Cleveland Kidney Walk, the company says.
"A key part of our mission as a company is supporting the communities in which we live and work," says Diane Shields, vice president of human resources. "Whether it's contributing financially to local philanthropic causes or with hands-on involvement, we encourage employees to enrich the quality of life in their communities."