Truck Parts & Service is less than three weeks away from anointing its Distributor of the Year. The nominees were unveiled in a series of articles over the past several months.
In case you missed it, in no particular order, they are:
Long Island Truck Parts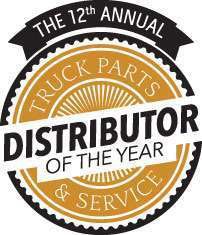 Bobby Naples says his father founded Long Island Truck Parts on the principle that there is no 9-to-5 in the aftermarket — and supported that with a willingness to do whatever it takes to help a customer — back in 1972 and it remains a cornerstone of the company's business more than 40 years later.
Read the full profile on Long Island Truck Parts here.
Sadler Power Train
Providing providing industry knowledge and expertise is the way of life at Sadler Power Train.
Founded as a rebuilding and machining company called Sadler Machine Inc. in 1958, the business has grown considerably over the last five decades. It expanded into truck parts distribution in 1975 and now has four locations in Iowa, with two providing drive-in service and repair.
Read the full profile on Sadler Power Train here.
Macpek
At Macpek, the goal to make customers' lives easier stands above all others.
It is prominently displayed in its facilities and on its website. More than just a motto, it represents the company's fundamental culture, philosophy and identity.
"Every decision we make in our business is done in the hopes of making [our customers'] lives easier," says Jean-François Pouliot, president. "Without our customers we have no business, so every relationship we entertain with any customer is built on being able to help them.
Read the full profile on Macpek here.
Truck Supply Co. of South Carolina
More than a decade ago Edward Neeley was working to complete a real estate deal when he was offered and purchased a heavy-duty truck parts distribution store. Though he had no aftermarket experience, Neeley saw an opportunity. He saw a business that could grow; a business that could strive.
Truck Supply Co. of South Carolina now has three locations throughout the Palmetto State and has expanded its sales revenue tenfold since 2002.
Read the full profile on Truck Supply Co. of South Carolina here.
Point Spring & Driveshaft
After nearly 90 years in business, Point Spring & Driveshaft continues to be a business deeply influenced and shaped by its people, and it's those people that have helped the Pennsylvania-based distributor once again be named a finalist for the Truck Parts & Service Distributor of the Year award.
"Our employees are the one thing that differentiate us from other distributors," says Adam Diecks, the company's marketing director. "We feel our quality of people is what makes us stand out, and this nomination is a reflection of the type of employees we have."
Read the full profile on Point Spring & Driveshaft here.