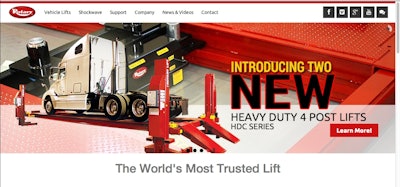 Rotary Lift has redesigned its website and included more videos, images and product information.
The new rotarylift.com homepage features a rotating slideshow of the company's vehicle lifts in action, highlighting the wide variety of products available. Links below the slideshow enable users to quickly find car lifts, truck lifts and the distributor contact page.
"The new site features a very clean design, but we have still managed to fit more visuals and information on its pages than before," says David Fischmer, marketing manager for Rotary Lift parent company Vehicle Service Group (VSG). "That's because the product pages are better organized and easier to navigate. Our customers should be able to efficiently find everything they need, but if they don't, we have included links to the Rotary Lift live chat helpline throughout."
Videos are a prominent feature of the new site. The homepage includes a featured video that is updated regularly. Customer testimonial videos can be found on the new video library page, which also organizes Rotary Lift's product spotlight videos into a central location.
When browsing for a lift, users can sort by lifting capacity and lift type, so they only see what they need. Each product page clearly lists the model's capacity, features, ALI certification status and specifications. Links to related products and auxiliary materials – like brochures or warranty information – are also included to provide an in-depth look at the lift.
Rotary Lift's updated Lift Buyer's Guide can also be downloaded from the site. The Rotary Lift marketing team handled the website redesign in-house.