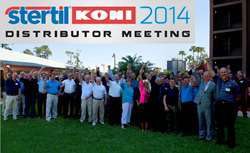 Stertil-Koni says the company has achieved record results in heavy-duty vehicle lifts sales for the full year 2013.
The company's president, Dr. Jean DellAmore, further noted that the group achieved record sales results for the first quarter of 2014 as well. Driving the momentum has been strong, positive customer response to Stertil-Koni's powerful, dependable mobile column lifts, its immensely successful platform lift series, Skylift, as well as its innovative, U.S. patented Ecolift – the industry's original ultra-shallow, full-rise inground axle engaging lift.
"Now, we are extremely pleased that the industry is rapidly embracing our latest inground lift, the Diamond Lift," he says of the company's inground telescopic piston lift, with a total lifting capacity of up to 96,000 lbs., that utilizes biodegradable oil and is rapidly establishing new standards in heavy duty lifting.