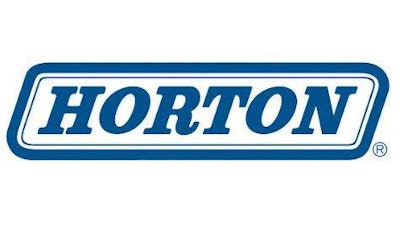 U.S. Secretary of Commerce Penny Pritzker presented Horton, Inc. with the President's "E" Award for Exports at a ceremony last month in Washington, D.C.
The "E" Awards are the highest recognition any U.S. entity may receive for making a significant contribution to the expansion of U.S. exports, Horton says.
The award was presented to Michel Locquegnies, director of international sales and business development for Horton, and Geert Henk Touw, Horton's president and CEO.
"Exporting continues to be a foundation of our sales growth, and we are honored to receive the 'E' Award," says Touw.  "Our success in exporting is thanks to the commitment and support of all our employees. Horton maintains its strong manufacturing and employment base in the United States and enjoys the challenge of promoting its products abroad. We expect export sales to become an increasingly more important part of our business over the coming years."
"Horton has demonstrated a sustained commitment to export expansion," says Secretary Pritzker in a congratulatory letter to the company. "The 'E' Awards Committee was very impressed with Horton's creativity in the development of a new market for its products in Vietnam. The company's focus on remanufacturing as a green initiative was also particularly impressive. Horton's achievements have undoubtedly contributed to national export expansion efforts that support the U.S. economy and create American jobs."
"We determine through market research what overseas markets to target and then work very closely with U.S. commercial services offices around the world to find distributors using their Gold Key Matching Service.  Over the last three years we have successfully entered over 25 new markets using this service," says Locquegnies.
"The President's 'E' Award winners are fantastic American businesses and organizations that have played a crucial role in strengthening and growing our economy through increased U.S. exports," notes Secretary Pritzker. "By selling made-in-America goods and services internationally, U.S. business can grow faster, hire more employees, pay higher wages, and help spread American ideas, innovation and values. Congratulations to Horton, Inc. for its export achievement, which helps the local community, Minnesota and the nation remain competitive in the global marketplace."
Horton says U.S. companies are nominated for the "E" Award for Exports through the Department of Commerce's U.S. and Foreign Commercial Service office network, located within the Department's International Trade Administration, which has offices in 108 U.S. cities and more than 70 countries to help U.S. exporters.