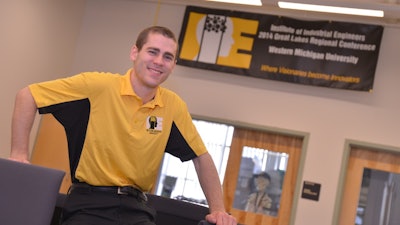 Kyle Croes, a Supply Chain Management team member for Eaton's Truck North America operations, has won the 2014 Institute of Industrial Engineers' James W. Barany Student Award for Excellence.
The award is presented annually to one undergraduate student in North America for distinguished service to industrial engineering through excellence in scholarship and campus leadership.
"We are extremely proud of Kyle for receiving this award," said John Beering, senior vice president and general manager of Eaton's Commercial Vehicle Transmission Business. "Kyle is an exemplary young engineer with tremendous dedication and vision. His unique blend of technical, business and communications skills will serve him well throughout his career."
Croes, a former co-op student who was hired as a full-time Eaton employee in May, previously worked at Eaton as a co-op student while attending Western Michigan University. During his co-op with Eaton, Croes worked on the launch of the company's new fuel-efficient Fuller Advantage Series automated transmission and he was part of an international sourcing team that helped improve program efficiencies and reduce costs for another transmission.
"It's a great environment for me to apply my industrial engineering training and learn from my co-workers," Croes says. "Everyone at Eaton has been very friendly and helpful."
In addition to his work at Eaton, Croes was recognized by IIE for several other accomplishments. His engineering work includes developing a new production line for a medical device company, enhancing the logistics of a grain mill and redesigning a distillery's facility layout.
But Croes talents aren't limited to the trucking industry. While a member of the Detroit Symphony Youth Ensemble, he also invented a unique guitar-stringing tool.