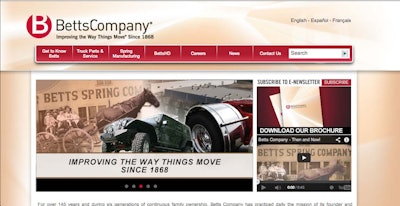 Betts Company has rolled out a new corporate website at www.betts1868.com.
The website serves as the centerpiece of a new branding initiative the company embarked upon this past year and helps introduce the six generation family owned and managed business to customers, prospects and the general public, the company says.
"Now well into our second century, Betts Company has a long history of providing component parts and services for transportation and other industrial applications of the highest quality and at superior value," says Bill Betts, vice president, Betts Company. "We are committed to improving the quality of life for our associates, customers and suppliers, maintaining high standards of ethical conduct and conserving our irreplaceable environment."
Betts was founded as the first spring manufacturer in the Western U.S., but has since developed into a diversified company that serves heavy duty transportation, automotive aftermarket and other industrial sectors.  After the completion of a strategic branding initiative, Betts Company, formerly Betts Spring Company, announced its new name in February 2013.
Acknowledging its historic roots of being founded in 1868 by William Michael Betts, Betts Company has adopted a new overall corporate tagline: "Improving the Way Things Move Since 1868."
The Betts Company home page includes links to the websites for its three operating divisions, Betts Spring Manufacturing, BettsHD and Betts Truck Parts and Service. Visitors to the Betts Company corporate website can download a copy of a new four-page corporate brochure, watch a company overview video, or sign up to receive the Betts Company e-newsletter.