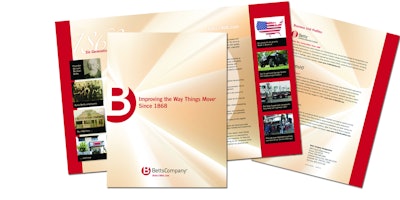 To further extend a new corporate branding initiative unveiled in 2013, Betts Company has completed a new four-page corporate brochure.
The brochure provides a concise history of the company from its origins in 1868 and elaborates on the company's mission, value proposition and core values. The brochure is tied together by the company's new tagline: "Improving the Way Things Move Since 1868."
"We are thrilled to provide our customers with the products, services and expertise to help move their vehicles, products and people productively and safely to many different destinations," says Bill Betts, vice president, Betts Company. "My family is proud of our six-generations of uninterrupted ownership in Betts Company and the opportunity to faithfully serve thousands of customers during our 146-year history."
The new Betts Company brochure celebrates its rich history, and also demonstrates how it has evolved into a diversified manufacturing and distribution company serving customers throughout North America, the company says. The brochure provides a brief overview of the Betts Company's three business units, Betts Spring Manufacturing, BettsHD and Betts Truck Parts & Service.
To download a copy of the new brochure, visit www.betts1868.com/Brochure.