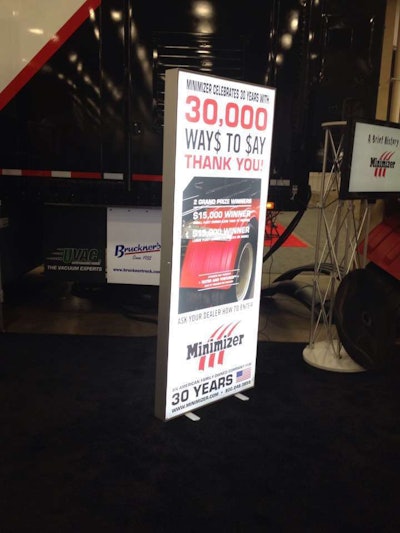 Minimizer is giving away $30,000 to celebrate its 30th anniversary, which is this year, the fender manufacturer announced Aug. 21 at the Great American Trucking Show.
The company is giving away $15,000 to an owner-operator and $15,000 to a fleet, and the winners will be named at the Mid-America Trucking Show in March in a drawing.
Anyone who spends $100 with the company will be entered into the drawing. Additional entries will be given for every $500 spent after the first $100, Minimizer said.
The company was started in 1984 by Dick Kruckerberg, a two-truck owner-operator. Kruckerberg identified the need for a fender that would not dent permanently or crinkle when impacted. He developed the heavy duty poly fenders, like the ones Minimizer still sells today.
Minimzer says its fenders never need painting or polishing, and it guarantees the products for life.
UPDATE: Registration for this contest is closed. Minimizer will announce the winners at 11 a.m. ET on March 27, 2015, at the Mid-America Trucking Show.