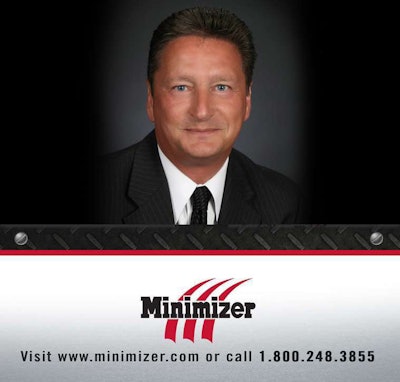 The Minneapolis/St. Paul Business Journal has named Minimizer's Christopher Thorpe "CT" an honoree for this year's CFO of the Year Award in the small private company category.
He, along with all the other 2014 nominees, will be recognized Nov. 13 at a luncheon and profiled in a special publication the next day.
"I'm very honored to accept this nomination, it's truly a significant career highlight," Thorpe says. "I feel privileged to be with Minimizer as we grow and expand globally. The role I have with the company, and its new management team, affords me dynamic opportunities to effect and guide change as we are constantly pursuing new products, markets, joint ventures and acquisitions."
The award was originally introduced in 2007 to recognize the crucial leadership role CFOs fill as a part of a company's management team. As mission-critical as CFOs are they often labor in relative obscurity and do not receive the kudos they deserve.
"CT is critical for our company's success, he is integral to our operations and expansion," says Craig Kruckeberg, Minimizer CEO and Chief Visionary. "He is a consummate professional, proving every day he is the very example of what a modern CFO can do for a business."