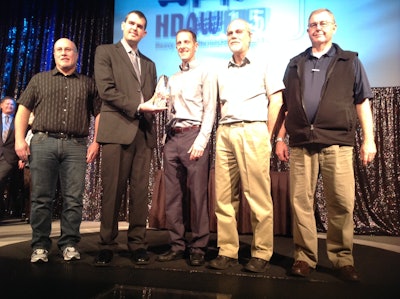 The story of Six Robblees' begins with three Robblees.
The year was 1913. Jim Robblee, a sheet metal worker and the oldest of a dozen children, opens a small business in Tacoma, Wash. with his brothers Bill, a locksmith, and Herb, a bicycle repairman.
Herb's bicycle expertise immediately draws customers, and coupled with the trio's diverse background, the operation quickly expands. By 1920, there's a second location in Seattle.
The business is thriving, and the Robblees are eager for more.
It's around this time the brothers begin receiving customer requests for assistance in a new market, one they've yet to enter.
"The Indy Car circuit had worked its way north to Tacoma and that was really what got the company involved [in the automotive industry]," says President Andy Robblee, the third-generation of his family to lead Six Robblees'. "Customers who knew about the bicycle wheel business started coming in and asking 'Can you tune our car wheels?'"
The Robblee trio had no automotive experience, but a willingness to help their customers and an interest in the new market motivated them to give it a try.
More than a century later, it's safe to say the decision paid off.
With 22 locations stretching from Oakland, Calif. to Fairbanks, Alaska, Six Robblees' is one of the largest independent heavy-duty aftermarket distributors in North America.
The business has more than 320 product lines, nearly 200 employees, and an industry-wide reputation as one of the independent aftermarket's strongest operations.
It also now has the title of the 2014 Truck Parts & Service Distributor of the Year.
Andy Robblee attributes the success of the company today to the attitude of its three founders, and their supreme dedication to customer service.
"They all had this kind of mentality of 'What else can we get for you?'" he says. "They wanted to help their customers [in] any way that they could."
Today, customers "can buy almost anything" at Six Robblees', says Randy Luthe, heavy duty product manager.
The company's product offering includes heavy-duty truck parts, light-, medium- and heavy-duty wheels, trailer components, shop supplies, service equipment, vehicle accessories and more.
But even with 300-plus product lines, Luthe says Six Robblees' is constantly lis- tening to customer requests and search- ing for new product opportunities.
An expansive geographical coverage area means Six Robblees' serves custom- ers in a multitude of markets. Some locations require parts others may not, so the operation never stops in its quest to build the perfect inventory for each customer at each facility.
"We listen to our staff and if they say 'I'm getting a lot of calls from this area, or for this part,' we'll look into it," says Luthe. "We don't want to overextend ourselves; but we want to be there for our customers."
"We want customers to feel like they are a partner," adds Neil Hendricks, vice president of operations. "We want to have a vested interest in their success and profitability, and that helps lead to our success."
Partnerships within the Robblee family also have been instrumental to the company's century of success.
When Jim Robblee passed away in 1930, Bill and Herb remained in the business and were joined by brothers Fred, Ted, Hank and Dick. These Six Robblees — for which the company is named — continued growing the organization, opening Six Robblees' first out-of-state location in Portland, Ore., in 1940.
Hank and Dick then bought out their four retiring brothers in 1948; sold the locksmith business to their nephews and dove head-first into the automotive and heavy-duty industries.
Nineteen additional locations later, the Six Robblees' management team remains active in those industries.
In addition to his responsibilities in the family business, Andy Robblee also serves as Treasurer of the Commercial Vehicle Solutions Network (CVSN) and is an active member of HDA Truck Pride.
Robblee's father Dave, who was the second-generation to lead the family business, was active in the National Wheel and Rim Association (NWRA), Heavy Duty America (a predecessor of HDA Truck Pride), Ascot Tire Supply and other various industry organizations.
But it's also important to note that Six Robblees' success hasn't solely been the result of the Robblee family. On the contrary, Andy Robblee says; the Robblee family has been the beneficiary of great employees throughout its history.
The customer service tenets instilled in 1913 only work today because Six Robblees' has employees that believe in them.
"Our employees are what keeps us rolling," Robblee says. "The decisions they make day-to-day translates into profit, profit sharing, expansion … into everything that we do."
"When they work hard and buy in [to the business]; that's when our business is truly successful."
Robblee says the Six Robblees' management team also relies heavily on its staff to devise plans for operational success and company growth. Major changes aren't made without employee input.
"I try to spend time with employees as much as possible," Robblee says. "I want to know what issues they are having, where are we struggling … what is or is not working well. It allows us to gauge what we need to do."
Empowering employees to handle smaller issues also has aided the com- pany's success, adds Hendricks. He cites a customer request approval as one example.
"We view our counter people as our inside sales team and empower them to make decisions," he says. "If a customer is requesting something that needs approval, they are qualified to take that on the spot and make a decision."
Robblee says employees are vocal in sharing their appreciation for that management style.
"It's always fun seeing employees [who are] excited about working for Six Robblees', and view themselves as being a part of something," he says. "That brings me great joy."
It's also another motivating factor for their great customer service.
"[Our people] always strive to do their best for our customers every single day," says Sales Manager Kevin Kartman.
And it's that reassurance that makes Andy Robblee excited about the future of his family's company.
Six Robblees' has passed the century mark, but it has no intention of slowing down.
"I think we're always going to continue to invest in the future of the business," he says. "We're always going to invest in infrastructure, in our people. It's going to be a constant effort to keep building and moving forward."
Robblee says he doesn't know if another Robblee will run the business when he retires, but he knows he'll do everything in his power to ensure the business remains the customer focused, profitable operation it is today.
He says he owes that to his predecessors.
"I've been blessed to be put in this position. This opportunity was a gift given to me," Robblee says. "There are a lot of family businesses out there; some only last 10 years while others are 100. They don't live forever."
But, he adds, "Now things are on my watch, and we better not let the ship go down."