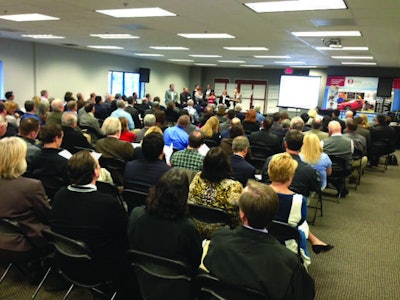 More than 130 business and education leaders turned out at Betts Company in Fresno earlier this month for the first town hall meeting of the "Task Force on Workforce, Job Creation and a Strong Economy."
Mike Betts, president of Betts Company, served as co-host of the event and greeted attendees with opening remarks.
"Today, there is optimism in the air and it is terrific to see people from different sectors are committed to building a world class workforce ecosystem," says Betts. "I use the word ecosystem intentionally. A big question exists; how will we link, align and leverage all the assets."
The California Community Colleges (CCC) commissioned the Task Force to determine how California can address skills gap in the state's economy. Officials estimate that about one million middle skilled workers are needed. Business leaders who attended the meeting are looking for answers.
Attendees identified the need for community colleges to deepen relationships with employers by sector. Another need surfaced was for more work to be done developing work-based learning in partnership with Career Technical Education (CTE).
Betts is a member of the Fresno Business Council which has adopted CTE as its number one priority for the next several years. In support of the town hall were the Fresno Chamber of Commerce, the Fresno Economic Development Corporation, the Office of Community and Economic Development and the E3 Network.
Those who attended the Fresno town hall meeting will receive a white paper capturing ideas, recommendations and planned actions from the two-hour event.
"The meeting was very productive and helped identify specific ways the community college system can improve workforce training," commented Betts. "The white paper will give us some concrete things businesses can do as we try to close the gap between what employers need and what the system provides."
Similar Town Hall meetings are scheduled throughout the state of California during 2015. The Task Force will report its recommendations to the Community College Board of Governors in September. The goal of the group is for community colleges to become essential catalysts to California's economic recovery and jobs creation at the local, regional and state levels.