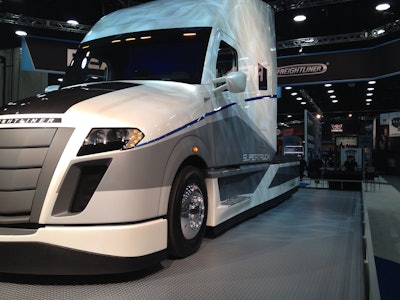 Exercises in truck design can be labor intensive, often spanning several years. But the timeframe can be adjusted depending on the company's intentions for the vehicle.
The process of going from an artist rendering of Freightliner's Revolution truck to having a tangible product took a year and a half, but Maik Ziegler, Daimler Trucks' director of advanced engineering, NAFTA, says that timeframe can vary from project to project.
"With SuperTruck, we have a target of 50 percent improvement of freight efficiency (over 2007 baselines)," he says. "Fifty percent is a big number, so the government gave us five years."
Like their light truck counterparts, commercial truck makers such as Freightliner use concept trucks as a function test for ideas "that weren't quite ready for prime time," says TJ Reed, director of product strategy for Daimler Trucks North America. Most recently, Freightliner used its Revolution concept truck to test features that were later moved into the Cascadia Evolution.
Not coincidentally, many of the body forms created for Freightliner's earlier generation concept – the Innovation truck – were rolled forward into the development of Revolution, including an internal antenna and utilizing cameras as mirrors.