Louis Boggeman, founder of St. Louis, Mo.-based Plaza Fleet Parts, passed away May 22 at Mari DeVilla in Chesterfield, Mo. He was 95.
A graduate of Central Catholic High School and U.S. Army veteran of WWII veteran with the he founded the company which is now known as Plaza Fleet Parts in 1946.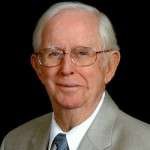 As an industry leader in the fast growing heavy duty parts business, he served as president of Council of Fleet Specialist in the 1980's. He retired from Plaza as chairman in 2001. Lou was a member of Blessed Sacrament Catholic Church in Belleville, Illinois for 65 years, a  member of the Serra Club and past president and life time member of St. Vincent DePaul, Blessed Sacrament conference.
He was preceded in death by his first wife: Dorothy, nee Donovan, Boggeman; wife: Maxine Hipskind Boggeman; Parents, Walter F. and Margaret, nee Gilligan, Boggeman; and brothers Walter F. Boggeman, Jr. and Richard J. Boggeman.
Surviving are his children Barbara  (Thomas) Feiner of Saint Louis, MO, Margaret (Michael) Mole of Landgrove, VT, Louis J. (Pamela) Boggeman, Jr. of Saint Louis, MO and Lisa (Skip) Steffen of Freeburg, IL; Grandchildren, Christine Feiner, Mary Alice Feiner, Lauren Bloch (Eric Ansley), Kevin Boggeman, Peter Boggeman, Paul Boggeman, Jane Boggeman, Katie O'Malley, and Liz (Shane) Conzelman; Great-grandchildren, Ben, Annabel, and Emma; Step-children, Dr. Gregory (Marji) Hipskind, Beth (Donn) Taylor, John (Tracey) Hipskind, Carolee (David) Schrader, Ken Hipskind, Dr. Tim (Caroline) Hipskind, David (Sharon) Hipskind, Patrick (Lisa) Hipskind, and Ann (Kevin) Hoerner.
Memorials may be made to the St. Vincent DePaul Blessed Sacrament Conference and Serra Club.
Friends may call from 4:00 pm – 8:00 pm Thursday, May 28, 2015 at Kurrus Funeral Home in Belleville, Ill.
Funeral services will be held at 10:00 am Friday, May 29, 2015 at Blessed Sacrament Catholic Church. Interment will follow at Mount Carmel Cemetery, Belleville, Illinois.