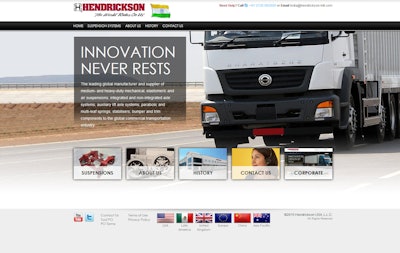 Hendrickson launches global, multi-lingual European and India websites.  "The introduction of these regional websites demonstrate our support and commitment to building global relationships, extending our reach and providing innovative products and services to benefit truck and trailer manufacturers, fleets and owner operators in these various countries," stated Mark Slingluff, director of marketing and communications at Hendrickson.
The European website is offered in both English and German, and will assist our customers in European countries by highlighting our spring and stabilizer products and suspension systems specific to these markets.
In addition the India website promotes relevant suspension systems that are specific to our customers in this market.
"It's important to Hendrickson to provide our global customers with websites containing relevant information and useful tools for each of their regions and areas of operation. The resources offered will make our customers' online experiences productive as well as beneficial to their bottom line. Developing websites for specific regions is crucial to operating successfully in our global business environment," added Slingluff.