For aftermarket distributors and service providers, trade shows provide the unique opportunity to meet with multiple vendors in an incredibly short amount of time. They allow face-to-face time with existing and potential vendors, and can help turn weeks of phone tag and email chains into incredibly valuable five-minute conversations.
The biggest key to preparation is simply determining which vendors an attendee wants to see, says Paul Wendelberger with Auto Brake Clutch & Gear.
"My goal is to work with my suppli- ers," says Wendelberger. "I will usually have a few in mind, and when I get [to a show] I'll seek them out."
Preparing a vendor list can be done by category as well, says Nick Paul, purchasing agent at Truck & Trailer Supply. Paul says his company will regularly identify product categories it wants to enhance before attending a trade show, and will then seek out businesses that offer those products at the event. This allows the Truck & Trailer Supply to acquire as much information as possible about a vendor and product before making a purchasing decision.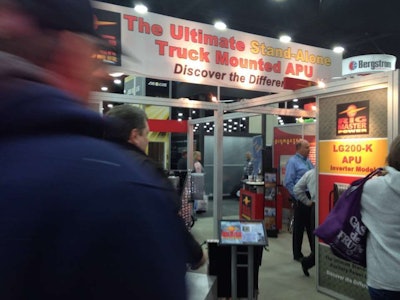 Following through on a trade show plan requires a cohesive approach.
For exhibitors, predetermined talking points should be communicated to all staffers before a show, and team members should work together to present that information throughout.
Karmak's John Lebel, strategic partnership director, says internal preparation meetings allow Karmak to educate its team on an outward marketing approach for any upcoming show.
He says team members are provided information on talking points, products and services
the company wants to promote.
This guarantees any customer who approaches Karmak's booth during a show will receive a consistent message, Lebel says, and adds this also ensures the team will know what to do when faced with a question or issue that's not easily solved.
"We try to make sure our team knows to ask more questions as a way to really determine the customer's issue," he says.
Executing a plan also requires an understanding of a trade show's limitations. The ability to interact with a large number of vendors or customers in one setting a great resource, but due to the time and environment, it's unlikely a lot of those conversations will be intensive.
Vendors should have strategies in place for staffers to acquire contact information from customers for future conversations and interactions. Customers entering a trade shows also should understand they are unlikely to get an hour alone with a supplier to work out a problem.
Paul says he "hunts for business cards" at trade shows to combat this exact issue.
"At least then, once I've talked to somebody, I know I can get in touch with them again when more questions come up," he says.
And trade shows can't be forgettable experiences, either. Leads found there should immediately be cultivated by vendors and customers alike, and new contacts should be addressed with post-event conversations.
"You can get new business at [trade shows], but that business typically doesn't come in during the actual show," Baker says. "They are more for conversations and networking — setting up future business discussions."
Lebel agrees.
"What every [vendor] wants out of a trade show is quality traffic, because quality traffic leads to the [future] conversations that lead to sales," he says.