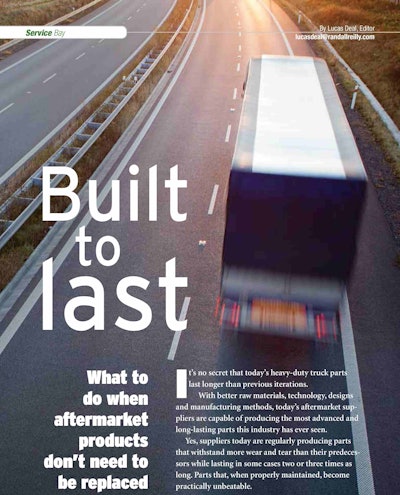 For many years, these advancements have benefited not only end-users, but also the members of the aftermarket supply chain.
There are good margins available for distributors selling high-performing and premium aftermarket parts. And as customers have become more dependent on these products, they also have become more dependent on the distributors that sell them.
But with today's aftermarket part life cycles now approaching previously believed to be unattainable levels, a few questions are beginning to be posed in the supply chain.
What happens when a part is built so well that it doesn't break down? What happens when a part no longer needs to be replaced?
Suppliers have been asking themselves those questions for years and have uncovered a few key solutions.
Aftermarket parts longevities are undoubtedly increasing, but other sales opportunities still exist. By focusing and capitalizing on these other areas, suppliers say their distributors can maintain their profitability for years to come.
These strategies are important, the suppliers say, because today's aftermarket parts are unquestionably lasting longer than their previous iterations.