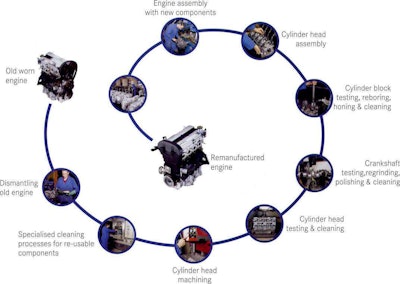 Remanufacturing has served a purpose in the heavy-duty aftermarket for a long time.
But after decades of being categorized with rebuilt and repaired components as the modest, low-cost option in the aftermarket parts food chain, remanufacturing recently has been invigorated.
Suppliers have zeroed in on the process as a way to offer high-quality, proven and environmentally friendly products at competitive prices, which has helped vehicle owners realize the value that can be found by thinking outside of the 'OE genuine' box.
This transition's impact on the aftermarket has been substantial.
MacKay & Company research indicates factory remanufactured parts accounted for 18 percent of all U.S. aftermarket sales in 2014. Combined with localized remanufacturing and rebuilding sales, that number jumps to 32 percent, and is nearly ten percent higher than the market share those same categories totaled three decades ago.
In addition, Federal legislation promoting the use of remanufactured products for government fleet vehicles now exists in both houses of Congress, and public support for recycling, remanufacturing and other green practices is at an all-time high.
The aftermarket has finally been hit by the green wave, but capitalizing on that wave takes more than a surfboard and good balance.
Distributors looking to profit from the green revolution entering the trucking industry today require an ability to promote the value of remanufactured products, as well as the management skills to source the cores necessary for the industry to exist.