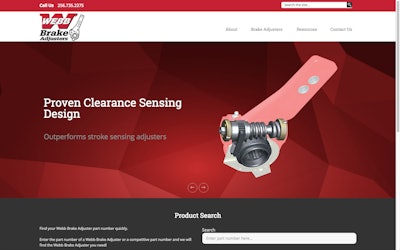 Webb Brake Adjusters has created a new website to highlight its complete line of clearance sensing automatic brake adjusters. This new website is designed to be a comprehensive and industry leading resource for automatic slack adjusters, the company says.
The new Webb Brake Adjusters website delivers an overview of their adjuster product line, a part number search function including competitive PNs, and an online catalog. The site also contains explanations/illustrations of how automatic slack adjusters work, how clearance sensing adjusters outperform stroke sensing adjusters, and how Webb's adjusters feature the industry's finest adjustment for optimum brake lining and drum wear.
Webb Brake Adjusters offers automatic slack adjusters in 5.5 inch to 7 inch arm lengths in 10, 28 and 37 spline models. Webb utilizes the proven clearance sensing design for its standard automatic slack adjusters and a patent protected design for its self-setting adjusters. These products are sold worldwide for OEM first fit and in the aftermarket. Specific brake adjuster models are available for line haul tractor and trailer, severe duty, transit and motor coach applications.