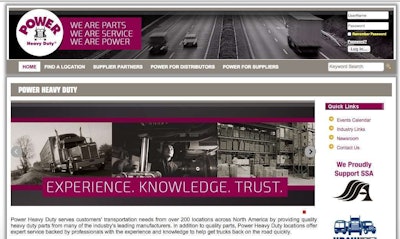 Power Heavy Duty has launched a new website, including a public side for industry visitors, and a private, secure portal for Power Heavy Duty members.
Among the new features on the public side is a new "Find a Location" search to locate the nearest Power Heavy Duty members. The site also includes a supplier page that lists many of the industry's leading manufacturers. Also a new "Quick Links" menu provides instant access to upcoming events, news and industry information.
"The new site provides an enhanced user experience, an improved brand experience, increased exposure for our supplier partners and new tools and resources for Power Heavy Duty members," says Jeff Paul, director of marketing for VIPAR Heavy Duty.
Another feature of the public side of the website is separate "Power for Suppliers" and "Power for Distributors" tabs, which provide information for suppliers and distributors who want to learn more about the Power Heavy Duty network.
"In the members portal area we've streamlined the page design and enhanced the navigation tools to make it easy for members to find supplier programs and marketing tools, including an all-new graphics gallery, enhanced linecard and product search," Paul says. "Plus, an all-new training library puts training materials from supplier partners into the hands of Power Heavy Duty members so they can keep their employees up to date with the latest resources available."