The emissions control and aftertreatment components and services segment is expected to emerge as the fastest-growing branch of the North American Class 6 to 8 truck aftermarket over the next six years, as up to 2 million trucks are expected to enter the aftermarket in search of these products and services.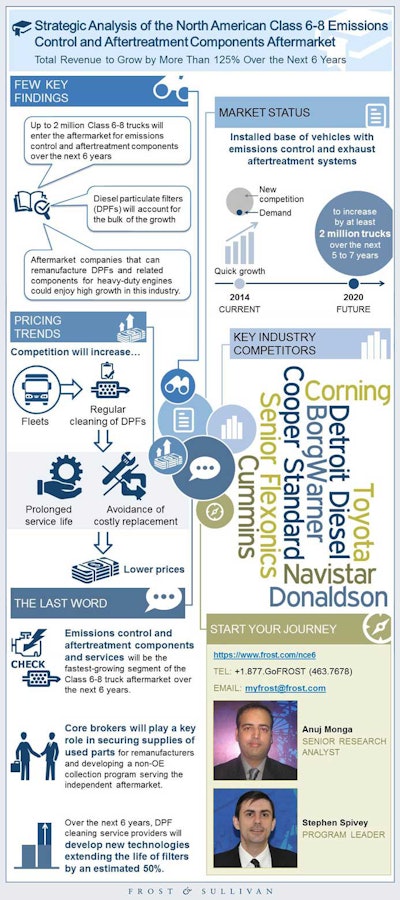 "The first batch of trucks outfitted with EGR valves, EGR coolers and DPFs since 2007 is exiting the warranty period," says Frost & Sullivan Intelligent Mobility Research Analyst Anuj Monga. "These components will require continuous maintenance and periodic replacement, spawning new revenue streams in the Class 6 to 8 truck aftermarket."
According to Strategic Analysis of the North American Class 6-8 Emissions Control and Aftertreatment Components Aftermarket, a recent analysis from Frost & Sullivan, this segment will drive driving manufacturer-level revenue from an estimated $308.7 million in 2014 to $694.8 million in 2020. The study covers exhaust gas recirculation (EGR) valves, EGR coolers and diesel particulate filters (DPFs).
The biggest challenge for component vendors is the high barrier of entry due to the emergence of the market and the complexity of the technology, Monga says. Moreover, most capabilities and technical knowledge rest with original equipment suppliers (OES), giving independent aftermarket stakeholders a disadvantage.
Although the OES channels have the lion's share of the aftermarket, they will face competition from independent manufacturers once the vehicle warranty periods expire. Independent aftermarket companies have been relegated to DPF cleaning, and periodic services will begin to stake a greater claim to the market.
"DPF cleaning is an extremely lucrative market segment in itself," Monga says. "Therefore, aftermarket companies capable of remanufacturing DPFs and related components for heavy-duty engines will garner substantial profits and establish a niche for themselves in the North American Class 6 to 8 emissions control and aftertreatment components aftermarket."