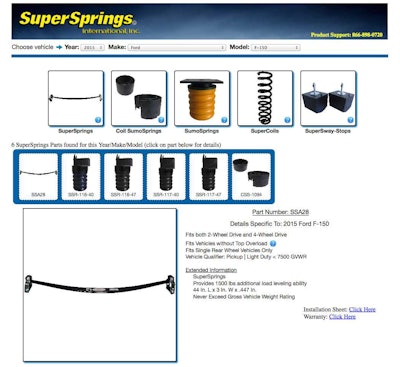 SuperSprings International has redesigned its website to make it faster and easier for customers to find the right suspension solutions for their specific applications. In addition to a more intuitive layout, the site features a unique product finder tool that displays all the SuperSprings International components that will fit a particular vehicle.
"Our product lines are growing, and the new online product finder offers an easy way to help customers find the correct fit," says Mike Visser, president of SuperSprings International. Customers can still contact us with any questions or to confirm the selection will meet their needs."
A link to the product finder is featured prominently on the new supersprings.com homepage. To use the tool, simply enter the vehicle's year, make and model, and then the website will display the suspension options available for that vehicle.
The new homepage also includes a flyout menu that lets customers quickly browse the SuperSprings, SumoSprings, Coil SumoSprings, SuperCoils and SuperSway-Stops product lines. Links to dealer options and an online store make it easy to buy products, and SuperMinute videos can help answer questions related to GVWR and installation.