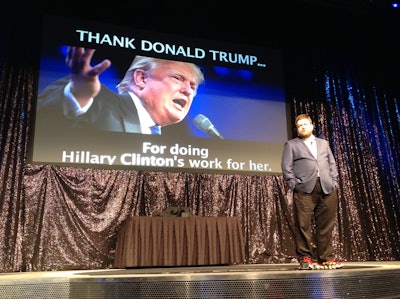 A frog is perched on the lower jaw of an alligator's wide open mouth. How does he survive?
That was one of several questions pitched by popular pollster Frank Luntz on Tuesday during the keynote address at the opening general session of Heavy Duty Aftermarket Week (HDAW) 2016 in Las Vegas.
Luntz' constant engagement with the audience combined with his funny and insightful forays into social and political issues left plenty of people laughing and reconsidering the power of perception.
Audience members in the Terry Fator Theater at the Mirage Events Center offered up plenty of responses regarding the frog's uncanny luck.
"He jumped out," one man said.
"No," Luntz responded.
"The frog was poisonous," a woman replied.
"No, that would just make him taste bad," Luntz said.
After a few more guesses were batted around, a man offered up the right answer that may have come as a surprise to some.
"The alligator's dead," he said.
"Yes!" Luntz said. "Where are you from?"
"Ohio," the man responded.
"Congratulations to the man from Ohio," Luntz announced from the stage. "He's right. The alligator is dead."
One thing that is alive and well is Luntz' penchant for using humor to challenge people's perceptions on anything from a frog seemingly on the edge of disaster to today's most popular politicians. Not much is off limits.
"All three of Donald Trump's wives are immigrants," Luntz announced. "Which is proof that there are some jobs that only an immigrant will do."
Though Luntz made it clear that he's no Trump supporter, he does share the candidate's disdain for political correctness. He also admires the man's ability to communicate.
"That quickness—I haven't seen in a presidential candidate," Luntz said.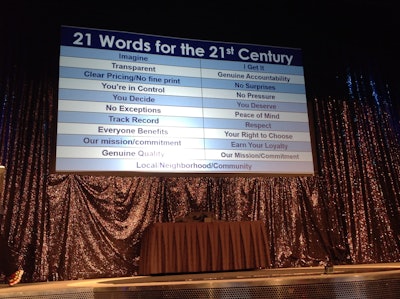 Luntz offered up Trump as a study in communication. He said that the New York billionaire has been able to attract a large and loyal following by mostly capitalizing on voter dissatisfaction.
He said Trump's tendency to attack other Republican presidential candidates and exploit their weaknesses, however, hurts the party and empowers Democrat presidential candidates.
A picture he projected of Trump on the screen read, "Thank Donald Trump…for doing Hillary Clinton's work for her."
While exploring a variety of topics Luntz reinforced and modeled the notion of effective communication. He emphasized the importance of creating a strong relationship with customers.
"Consumers want to know that they're in charge," he said. "It's your tone, your demeanor, as well as what you say, that matters to people."
An image of a couple projected on the screen probably summed up Luntz' message best. An older man and woman are shone smiling, holding hands and walking barefoot on the beach. Luntz explained that he had polled a group of respondents and asked them to choose one image out of several that best depicted happiness. A majority chose the old couple on the beach.
"Look how happy that guy is, despite his hat," Luntz said. "That is the definition of sheer joy and that is what you're looking for when you communicate."