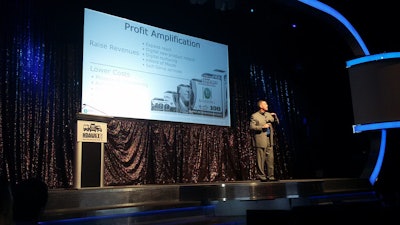 Darwinism. It's not just for species, anymore.
That was the message conveyed by Scott Klososky during a tech-focused educational session Tuesday at Heavy Duty Aftermarket Week (HDAW) in Las Vegas.
"Technological Darwinism is when the pace of technology innovation is faster than the speed people will adopt valuable new tools," says Klososky.
No business can remain completely ahead of technology, especially today, but Klososky says businesses that are leading-edge adopters and actively looking for the next great tool are the ones who are most likely to stay ahead of Darwin's famously inevitable demise.
"Resistance is futile," Klososky says, quoting Star Trek. And speaking to a room full of veteran business leaders, he says showing hesitation around technology is a bad way to end a good career.
"You have to ask, 'What is my legacy going to be?' Are people going to ask 'What are we going to do without him?' or will they be saying 'Thank goodness he's gone. He's been strangling us.'"
Klososky advised the room to practice high-beam leadership and be leaders who don't only focus on this quarter, but also accept that the industry will change over the next decade, and be willing to change with it.
Klososky says every industry reaches an inflection point when technology becomes so advanced and integral to its existence that businesses who fall behind the curve, at any point, become doomed.
He says the heavy-duty aftermarket isn't there quite yet, but that date is coming.
Ensuring a positive legacy tomorrow requires significant commitment today. That means investing capital and showing a willingness to completely redesign your business—both from a cost control and revenue generation perspective—to best use new and soon-to-be-available technology.
"You have such an opportunity. You will have eternity to think inside the box. But you will not have this chance [to be ahead of the curve] forever," he says.