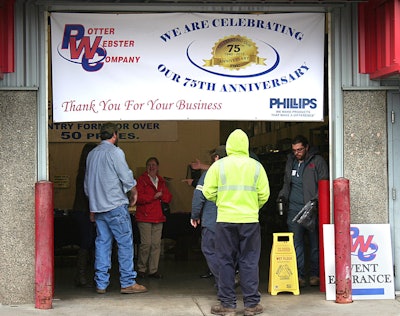 Potter Webster Company recently held a celebratory open house for its customers, vendors and staff in recognition of its 75th anniversary.
Co-Founded by J.R. Webster, Walter Webster and Orin Potter in 1940, the Portland, Ore.-based company is now led by J.R. Webster's son Dennis. The Webster family is proud to carry on the legacy of the company's founders.
"We are honored that our customers have been placing their trust in us for 75 years. At Potter Webster Company, you can rely on a dedicated sales representative that will understand your operation, save you time and money, and do the job right the first time," says Dennis Webster. "Our goal is to keep your business on the road to success."
Potter Webster is a founding member of HDA Truck Pride, and is known for its unparalleled customer service and great relationships with its customers and suppliers. Both were on display during the company's recent open house.
With more than 400 people present, customers enjoyed great food, sharing memories with staff, and product specials. There were more than 40 vendors present to answer questions and share in the celebration.  All in attendance received commemorative 75th t-shirts and a coffee mug, and were entered into a raffle for items that ranged from $25 to $600.
"We want to thank all of our employees, customers, and suppliers for their support over the past 75 years," says Webster.  "They are the people who have made us '75 Years Strong.'"