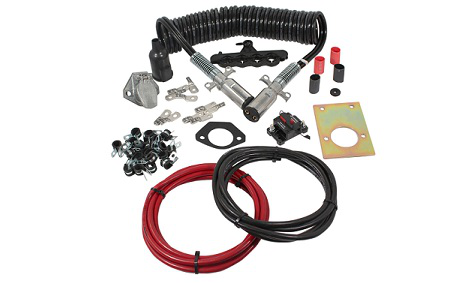 Phillips Industries is now offering a complete kit with everything required for a liftgate dual pole installation or a single to dual pole conversation.
According to Phillips, fleets are seeing an increasing need to have a ground return system versus a chassis ground system for the supplemental power requirements of liftgates, so Phillips put together all the necessary pieces into one easy-to-order kit.
Liftgates that use single pole systems are grounded through the fifth wheel and kingpin. When the kingpin ground is interrupted, the 8 gauge wire at the J560 connector can easily become overloaded, Phillips says leaving no lights and ABS on the trailer. Fifth wheel Teflon and other protective coating no longer make the ground path as reliable, the company says, compared to when the fifth wheel was uncoated.
Phillips says the solution to this problem is a dual pole cable.
The dual pole cable has a dedicated positive and ground line directly from the tractor batteries, Phillips says. The extra reliability in the connection ensures that the charge to the liftgate batteries is continuous, and not intermittently relying on the fifth-wheel/king-pin ground combination. When using the dual pole cable, you are providing a cleaner signal to the liftgate batteries and other auxiliary devices, Phillips says.
The complete dual pole installation and conversion kits include a dual pole socket, battery cables, shrink tubing and all the miscellaneous items.