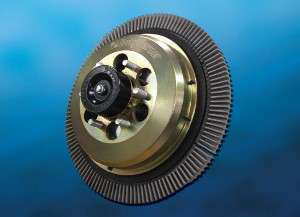 BorgWarner says its new DuroSpeed 2-speed fan drive is specifically designed to deliver reliable cooling for severe operating and vocational truck applications, such as construction vehicles and municipal trucks.
While on/off models provide superb durability and fuel efficiency for over-the-road applications, BorgWarner says its DuroSpeed fan drive significantly reduces fan engagements for greater reliability and less noise in severe service applications. The modular design allows any BorgWarner Kysor on/off fan drive to be easily converted to a DuroSpeed fan drive. BorgWarner will begin supplying this product in May 2015.
"Dump trucks, refuse haulers and other vocational applications experience severe service and have very different cooling needs than line haul trucks. At BorgWarner, our engineers listened to the voice of the customer to develop a simple, efficient design built for durability and serviceability," says Daniel Paterra, president and general manager, BorgWarner Thermal Systems. "Our testing shows the DuroSpeed fan drive's innovative flux ring design enables this clutch to run 70 degrees Fahrenheit cooler than competitive offerings. The cooler internal operating temperature increases bearing and liner durability, allowing nearly twice as many engagements over its lifetime."
In severe-duty applications, on/off fan drives are continually engaging and disengaging. When disengaged, engine temperatures rise quickly, causing the clutch to engage repeatedly. BorgWarner's pneumatically actuated DuroSpeed 2-speed fan drive is designed with a higher disengaged fan speed to prevent engine temperatures from rising too quickly, the company says. Because the fan drive engages and disengages less often, clutch life increases, noise decreases, dust buildup in the radiator is minimized and more horsepower is available, allowing the vehicle to achieve higher work output.
Compared with competitive models, the DuroSpeed fan drive has no spinning air connections to wear, inspect or service, and is designed to operate at lower temperatures for longer bearing and liner life. Weighing 5 to 10 lbs. less and using 11 fewer components than comparable units, BorgWarner's DuroSpeed fan drive also helps deliver better fuel economy, the company says.
To reduce complexity and minimize upgrade costs, BorgWarner says its modular design also uses the same clutch unit for all applications. Any Kysor on/off fan drive can be easily retrofitted to a DuroSpeed fan drive with a conversion kit consisting of only two add-on components. With the DuroSpeed 2-speed fan drive, BorgWarner offers a full line of airflow solutions for a variety of cooling needs.