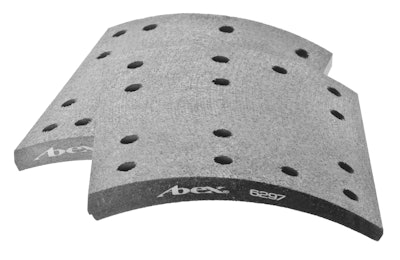 Federal-Mogul Motorparts has expanded its range of Abex Reduced Stopping Distance (RSD) certified commercial grade friction linings to include a new lining (RX 6297) that exceeds both the Federal Motor Vehicle Safety Standards (FMVSS) 121 Reduced Stopping Distance (RSD) requirement and OE brake manufacturer standard for 23,000-lb. tractor applications.
Federal-Mogul says in testing conducted by an ISO-certified facility, using a tractor equipped with a 23,000-lb. drive axle and 14,600-lb. steer axle, the Abex RX 6297 lining delivered under loaded conditions a stopping distance of just 217 ft. from 60 miles per hour, beating both the FMVSS 121 RSD standard and OE brake manufacturer requirement of 250 and 225 feet, respectively. The highly advanced, copper-free, crack-resistant lining is engineered to help maintain like-new braking performance while experiencing minimal swell and growth and offering excellent lining and drum wear, the company says.
The Abex brand also offers independently validated, RSD-certified linings for 20,000-lb. tractor applications.
"It is vital for fleets to maintain the original braking performance of their vehicles, particularly given the increased awareness of RSD requirements," says Dennis Griffin, product manager, commercial vehicle friction, Federal-Mogul Motorparts. "Abex RSD- certified brake linings provide the safety, security and performance demanded both by leading OE brake system manufacturers and commercial and private fleets."
Phase 1 of the FMVSS 121 RSD standard, which went into effect in August 2011, requires a loaded Class 8 tandem-axle tractor of 59,600 lbs. GVWR or less to stop from 60 miles per hour within 250 ft. The previous standard was 355 ft. Phase 2, effective August 2013, expanded the 250-ft. stopping distance requirement to all tandem-axle tractors as well as certain three- and four-axle vehicles. Additionally, three-axle tractors above 70,000 lbs. GVRW and four-axle vehicles 85,001 lbs. and above must stop from 60 miles per hour within 310 feet.
Federal-Mogul Motorparts and the Abex brand have partnered with vehicle and OE brake system manufacturers to meet these requirements through the development of advanced non-asbestos organic (NAO), semi-metallic and combination NAO/semi-met formulations that produce the required brake torque to stop under 250 ft., the company says.