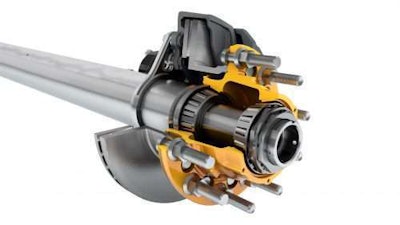 SAF-Holland introduced in Grand Rapids, Mich., Thursday a new series of air disc brakes that the company's president of the Americas, Steffen Schewerda, hopes will drive disc brake adoption rates upwards of three fold in the coming years.
Comprised of two models – the standard P89 and premium P89 Plus – Steffen says the new P89 series is designed to drive down the price point of disc brakes when compared to previous generation air disc brake systems, while also offering a higher-end option. The P89 Series is available on the SAF CBX air ride and ULX spring ride suspensions.
"Our aim is to be both the high volume supplier with the P89, and the top of the line supplier with the P89 Plus," says Roger Jansen, product manager – trailer axles and suspensions.
The P89, the series' base model, can be customized to suit specific fleet demands at a significantly lower price point than previous generation air disc brake systems. The fully-sealed SAF SBS 2220 caliper and 430mm diameter heavy duty vented rotor are the heart of the P89. The dual piston SBS 2220 caliper, Jansen says, applies a more even pressure pattern across the brake lining than competitive single piston designs and the 430mm diameter x 45mm thick rotor provides 30 percent more wear volume than competitive designs.
The caliper, which Jansen adds is 12 lbs. lighter than previous generations, attaches to an optimized 4-bolt carrier with maintenance-free sealed slide pins.
The New P89 – rated up to 25k – comes standard with a 3.5-inch diameter parallel spindle or an optional lightweight taper spindle configuration, which can reduce weight by 10 pounds per axle and uses industry standard bearings and wheel seals to reduce maintenance costs. It is backed by a 5-year warranty.
Jansen says the P89 comes with a sticker price that is roughly 40 percent lower than its closest competitor, unlocking customers previously turned off by upfront expenses associated with spec'ing disc brakes that can surpass $1,000 per axle on average.
"What we've done is we've made this technology available for fleets of every size," he adds.
"Our objective is to get that price point to a level where the customer wants to make that leap to switch to disc brakes," says Jeff Talaga, SAF Holland vice president of sales and strategic development, adding he hopes to cut the premium on a disc to drum conversion by more than 30 percent.
Precision bearing spacers are installed between the inner and outer bearings to precisely control bearing pre-load for maximum life.The premium option, P89 Plus, comes standard with a 7-year maintenance-free bearing system that uses large 89mm front and rear bearings, which are individually sealed and lubricated with high temperature long life grease. Traditional wheel seals, a common source of pre-mature wheel end failure, are eliminated allowing for "a marked reduction of rolling resistance in the wheel end," Jansen adds.
Jansen says extensive product testing has shown the P89 Plus bearing system provides four times better bearing life, and the unit can be rebuilt with standard bearings, seals and caps.
"We've designed this to be fast and efficient for the fleet (to maintain) and reduce the risk of getting it wrong," Doug Dorn, SAF Holland, vice president of sales – fleets, Americas, adds.
A unique bi-metallic design of the P89 Plus' SAF Integral rotor allows the rotor to expand and contract a radial direction, keeping the braking surface flat and eliminating the umbrella effect.
Steffen says take rates for disc brakes on tractor steer axles reached upwards of 15 percent last year, 10 percent on the drive axle and approached 10 percent on the trailer. He forecasts that to skyrocket in the years ahead as prices come down and ease of maintenance continues to outpace that of drums.
"I'm of the opinion that drum brakes are costing us three times more (than disc brakes) in terms of downtime and maintenance," says Jim Fox, vice president and general manager of Pinnacle Express, an Ann Arbor, Mich.-based aviation fuel hauler with 24 tractors and 33 trailers. "We're never going back to drum brakes at Pinnacle Express."
"The market is ready," Dorn says of disc brake potential. "2016 is the year, we believe, you're going to see air disc brake adoption rates really start to take off."