SAF-Holland rolled out two new products last week, the third and fourth product launches for the company this year.
One of the products is the company's new trailer suspension to target trailer weight savings, which Roger Jansen, SAF-Holland product manager, trailers, axles and suspensions, says will be premium as efficiency mandates from Phase 2 legislation – with the addition of skirts, tails and fairings – will pile on upwards of 500 lbs. of additional weight.
"Shippers are not going to give the fleets any credit for having to increase the tare weight of their trailers," Jansen says.
Per Greenhouse Gas (GHG) Phase 2 legislation, the 85-lb. savings offered by SAF-Holland's new CBX40 AeroBeam – an on-highway van slider – will reduce the GHG gas emission by 1,250 lb. over 10 years. It also will become the first product in the company's Aero Series, eventually phasing out the CBX40 system.
"This will become our new platform for suspensions as we move into the coming years," Jansen adds.
The trailer running gear – the axles, suspension and brake system – is about 20 percent of the trailer's overall weight. With a base weight of 1,267 lb., Jansen says the CBX40 AeroBeam helps offset the weight added by aero fixtures and offers, is about 10 percent lighter than the outgoing CBX40 model and 27 lb. lighter than its closest competitor.
"Being light is one thing, but making sure you don't reduce the durability of the suspension is another thing," he adds
The CBX40 AeroBeam is stronger, with its 80 ksi steel sub-frame and four full-height cross members. The unit's full sub-frame design features 12 percent thicker friction welded axles than competitive models that helps improve inside tire life.
"It's been very, very weight optimized," Jansen adds, noting 16 strategically placed frame reinforcements improve resistance to curb strikes, slider repositioning and drag turns.
SAF-Holland's Black Armour coating offers galvanized level protection without added weight of a zinc based coating. The chemical bound to metal is impervious to water and anti-icing chemicals.
The suspension also features SAF-Holland's patented SwingAlign system that makes maintaining axle adjustment quicker.
"The easiest way to maintain the service life of your tires is to maintain the alignment of your axles," Jansen says.
Under the van, shocks have been relocated to give more room on the sub-frame for air tanks, brake valves, tire inflation systems and ABS modules.
"That also facilitates air flow under the trailer," Jansen adds.
The unit is customizable with manual or air-assisted slide pin release, Dockwalk, auto sensing lift axles, disc or drum brakes, and parallel or taper spindles among other features. SAF-Holland's new P89 air disc brakes will be available as an option on the CBX40 AeroBeam.
Electronic Lock Indicator – technology enhanced (ELI-te) fifth wheel
SAF-Holland also unveiled Thursday its new fifth wheel coupling assistant, ELI-te — Electronic Lock Indicator – technology enhanced. Bill Hicks, director of product planning for SAF-Holland, says ELI-te will improve reliability. The system will also be "visually indicative," save time and be upgradable.
Available as an integrated option on FW35 Series fifth wheels, the ELI-te is mounted directly to the fifth wheel top plate and features electrical output capability to support connection with remote indicators.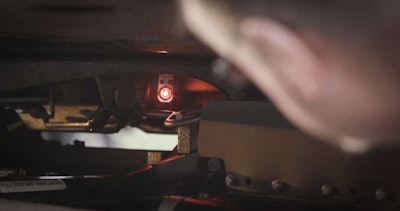 When a trailer kingpin is properly coupled to an ELI-te equipped fifth wheel, four white LED lights mounted within the fifth wheel automatically illuminate the lock jaws, assisting drivers with visual safety inspections by directing attention to the critical connection between the lock jaws and kingpin, says Bryan Redeker, SAF-Holland product manager for fifth wheels. The white lights will remain lit for approximately five minutes.
"This helps increase inspection effectiveness and confidence," he adds, noting the lights are up to four times brighter than a flashlight. "They also illuminate the best spot to inspect the lock, which is right at the kingpin, at the throat. This provides consistent and more thorough driver inspection, and reduces the risk of incidents."
If the system senses a coupling problem, Redeker says daytime-visible red LED lights will flash from both sides of the fifth wheel. The red lights will remain flashing until the system is reset, which consists of pulling the truck forward and away from the trailer. The driver would then reattempt the coupling.
"This alerts the driver that there is an issue before it becomes a costly problem," he says.
Sensors and shatter-proof lamp modules are combined with the system's sealed, one-piece electrical harness, which is one-connector assembly that requires only a low-current connection to the vehicle electrical power. For converter dolly applications, the electrical connection is designed to be compatible with ABS status signals. The complete system, Redeker says, allows for efficient installation at the OEM or aftermarket retrofit.