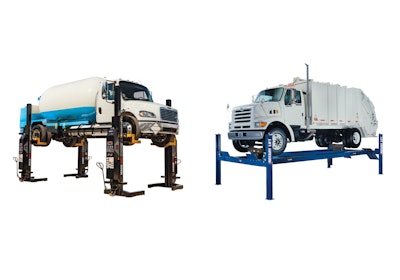 Rotary Lift has released a new set of tips to help those looking for a new truck lift.
"OEMs want their dealers to be able to service what they sell," says Doug Spiller, heavy-duty product manager for Rotary Lift. "Equipping your facility to properly service commercial vehicles can also lead to new revenue streams generated by supporting local fleets, municipalities, school districts and utilities."
Dealer equipment programs include heavy-duty four-post and mobile column lifts for servicing medium-duty trucks. Rotary Lift provides these tips to help choose which style of lift is best for a dealership's needs and growth goals.
Mobile Column Lifts
The easiest and most cost-effective heavy-duty lift to add to a service department is the versatile mobile column lift. A mobile column lift consists of two, three or four pairs of lifting columns that work together to pick up and raise a vehicle by its wheels. One column is positioned at each wheel of a vehicle, and then they are all synchronized using communication cables or wireless receivers to simultaneously raise the vehicle.
These portable lifts are easy for technicians to use. Battery-operated wireless models can be set up quickly in an available flat bay with no cords to connect or get in the way.
For dealers who anticipate only occasional truck service, mobile columns are easy to move and store so they don't take up valuable bay space when not in use.
Adding to their flexibility is the fact that after the vehicle is raised to an ergonomic working height, the technician can lower the vehicle onto a set of jack stands so the mobile columns can be removed and used in another bay. In this way, a single mobile column lift can be used to pick up vehicles in multiple bays.
Other advantages of mobile column lifts:
Provide unobstructed access to the vehicle undercarriage — no arms, columns or runways to get in the way.
Can lift virtually any vehicle configuration, including cars.
A clear floor under the vehicle provides easy access for tools and equipment.
No installation required.
Can be used for most maintenance and repair tasks, including brake, tire and suspension work (with the use of jack stands).
Available in a variety of lifting capacities, battery-powered or plug-in, with wired or wireless communication.
Battery-operated lifts can be used in areas without power outlets.
Rotary Lift's new Mach™ Flex powered by Red Fire™ mobile column lifts are operated by remote control, giving the technician full visibility and mobility around the vehicle while lifting.
Four-Post Lifts
A medium-duty four-post lift is basically a larger version of the same type of lift many dealerships already have in an alignment or quick-service bay.
Fixed ops managers know how easy it is to use. Simply drive the vehicle onto the runways, which are then raised to get the vehicle up in the air quickly and efficiently. This drive-on capability makes four-post lifts well suited for quick service operations such as inspections, oil changes and lube jobs. Although the vehicle is initially supported by its wheels, rolling jacks can be added to the lift to engage the vehicle by its axles, so tire and wheel work can be performed.
Because of space requirements, four-post lifts make the most sense if you have a dedicated bay available, or if you are expanding your existing facility or building a new one.
Other advantages of four post lifts:
Can accommodate cars, vans and light trucks, as well as commercial trucks.
Can be used for most maintenance and repair tasks.
Available in a variety of lengths and lifting capacities.
Can be equipped with rolling jacks for brake, tire and suspension work.
Can be equipped to perform alignments and front end adjustments.
Can be configured as drive-through, to further enhance productivity.
Fast installation.
Some offer additional features, like the ability to run the lift from any of the four posts.
Before investing in new equipment, especially in response to OEM vehicle changes or launches, make sure the lift you are considering has been approved by the vehicle manufacturer. Many OEMs recommend or even mandate which truck lifts dealers should install. In some cases, the OEM has worked with a lift manufacturer during the vehicle design process to determine how to best pick up the vehicle, especially in situations where the lifting points are difficult to reach.