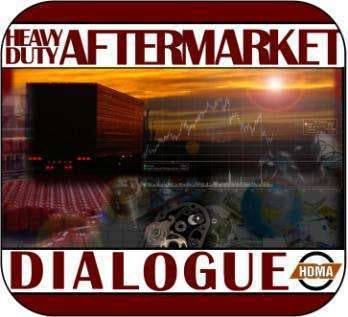 The Heavy Duty Manufacturers Association and MacKay & Company have announced the participants for the Heavy Duty Distribution panel, one of the three expert discussion panels to take place during Heavy Duty Aftermarket Dialogue on Jan. 21, 2013 at The Mirage in Las Vegas — immediately preceding Heavy Duty Aftermarket Week 2013.
According to HDMA, participants in the Heavy Duty Distribution Panel will include three representatives of various elements of the distribution channel: a national distributor, an independent distributor and a large truck dealer.
"We are anticipating a vigorous and insightful discussion to emerge from the group that we have selected for this panel," says Stu MacKay of MacKay & Company. "These are industry leaders with decades of firsthand knowledge of how the Heavy Duty Aftermarket responds under various economic climates.  Their experience and collaboration should really yield some valuable takeaways for the audience."
The presenters are:
John Bzeta, president and CEO of Fleet Brake. Headquartered in Alberta, his company is involved in the truck parts business, including the "Oil Patch" area of western Canada, servicing the demand of both the trucking fleets and oil field vehicles. Fleet Brake was co-winner of Truck Parts and Service magazine's Distributor of the Year for 2011.
Duane Kyrish, recipient of the International Dealer of the Year award and owner of Longhorn International Trucks. Headquartered in Austin, Texas, Longhorn is said to have an award winning truck leasing business. Under Kyrish's leadership, Longhorn has grown to 105 employees, two dealer locations and has received the Circle of Excellence Award a total of 27 times.
Lee Stockseth, president and COO of FleetPride, America's largest heavy-duty distributor with more than 250 locations in 45 states. Stockseth has nearly 30 years of experience in the heavy-duty industry, and has been with FleetPride since 1998. FleetPride has had a solid record of growth in the industry since forming in the late 1990s, HDMA says.
"We believe this panel of heavy-duty parts distribution leaders will generate a lot of interest and a great deal of discussion," says Tim Kraus, president and COO of HDMA. "Audience participation has been the hallmark of every Dialogue program and this panel will most certainly raise thought-provoking questions from our members and guests. None of the panelists are known for holding back on their opinions; it should be an outstanding session. "
HDMA says the day-long conference also will feature a heavy-duty supplier discussion panel, as well as a panel from the perspective of fleet owners, scheduled between two expert presentations; the North American Economic Outlook to be presented by Dr. Bob Dieli of RDLB, Inc., followed by the Heavy Duty Industry Forecast presented by Stu MacKay of MacKay & Company. HDMA says the conference will include breakfast, two breaks and a luncheon, each intended to facilitate networking with industry peers, as well as conference books containing presentation materials.
Registration for HDAD'13 is open for the new conference and can be completed on the HDMA website, www.hdma.org. For more information or to register for the Heavy Duty Aftermarket Dialogue conference, or any of the other conferences in the HDD Conference Series, please visit www.hdma.org.