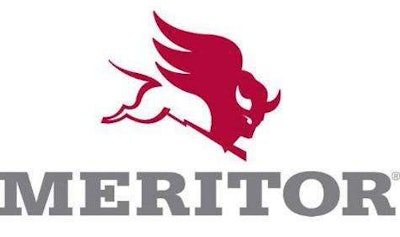 The Board of Directors of Meritor, Inc. announce Ivor J. (Ike) Evans, Chairman of the Board of Directors and CEO, has been appointed to the role of executive chairman. Jeffrey A. (Jay) Craig, president and chief operating officer, succeeds Evans as CEO and will remain president. Craig also has been appointed to the Board of Directors, effective immediately.
"Under Ike's leadership, Meritor has made significant progress toward the execution of its strategic vision and we are pleased that he will remain actively involved in the Company's leadership as Executive Chairman," says William R. Newlin, Meritor's Lead Independent Director. "We are enthusiastic about Meritor's prospects for continued growth and shareholder value creation as we work to extend the Company's positive trajectory and achieve M2016 goals."
"We have made tremendous progress in advancing and executing our M2016 strategy," says Evans. "It has been a privilege to serve as Meritor's CEO, leading an incredibly talented global team in the Company's transformation. Succession planning has been a priority of mine during my tenure as CEO, and the Board and I agree that now is the right time to name Jay as Meritor's next CEO. I look forward to remaining actively involved in the company and working closely with Jay and the rest of the management team in my role as Executive Chairman."
Evans adds, "Jay is a strong leader who possesses a unique combination of commercial expertise and financial acumen with a relentless focus on execution and performance. Jay is ideally suited to lead Meritor as its next CEO as we continue to drive toward achievement of our M2016 targets and create even more value for Meritor's shareholders."
"I am honored to succeed Ike as Meritor's CEO," says Craig. "With an experienced leadership team and 9,000 hard-working and dedicated employees around the world, Meritor is well positioned to capitalize on numerous growth opportunities that will allow the Company to remain an industry leader for years to come. I look forward to continue building Meritor's customer relationships, investing strategically in our product portfolio and maintaining operational excellence as we grow our core business."
He continued, "I would like to thank Ike, who has been an important mentor to me in our pursuit of excellence. I am pleased to have his continued support and guidance in his role as Executive Chairman."
As executive chairman, Evans will report directly to the Board of Directors, have responsibility for the general oversight of the business, work closely with Craig on key business decisions and set the strategic direction of the Company, the company says.
Speed to lead Aftermarket & Trailer
Meritor also has appointed Rob Speed as president, Aftermarket & Trailer and Chief Procurement Officer.
In this role, Meritor says Speed will have responsibility for the planning, organization and implementation of all sales and business strategies and operations for the Aftermarket & Trailer business segment. In addition, he will maintain responsibility for Meritor's Procurement, Supply Chain and Facilities organizations. Speed will report directly to Jay Craig.
"Rob's ability to achieve results across diverse organizational functions is an asset as we continue to focus on our strategic targets," Craig says.
Speed was named vice president and Chief Procurement Officer in March 2014. Prior to that, he was vice president of Global Purchasing. He joined Meritor in 2005 as manager of capital markets. Speed also served as managing director of Meritor's Australia operations and held various executive-level positions in finance and other areas within Meritor.