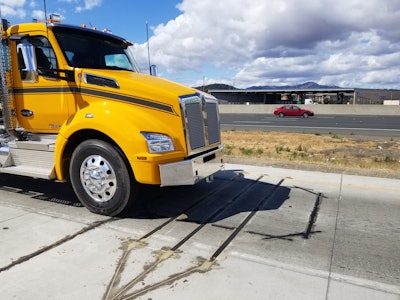 International Road Dynamics
Three small lines on an interstate can prevent an untold amount of accidents and blowouts.
Those lines are sensors that detect tire anomalies, which the Federal Motor Carrier Safety Administration has identified as the most frequent vehicle-related factor in fatal crashes.
When International Road Dynamics Inc. deployed its tire anomaly and classification system (TACS) in 2018, North Carolina was one of the first states to test it, installing a single system on a ramp to a weigh station. The North Carolina Department of Public Safety has since had 16 TACS systems installed along its interstates.
"What we have found is it's extremely effective at catching those flat tires or busted tires that are out of service, and its ability to catch them is really unbelievable," said NCDPS Master Trooper Kendell Jackson. "A lot of times it's a tire that you normally just can't see with the naked eye that it's flat. It may just be extremely low in air. Just to look at the truck you might not notice. But for the most part that tire will go on down the road; no one will catch it, and those tires come off the rim. That … causes wrecks. So it's actually just an amazing piece of equipment."
Jackson said the first mainline tech system the state installed had an increase of 600% in tire violations in the first month of use.
TACS uses Vectorsense in-road sensors that can operate at mainline highway speeds up to 100 miles per hour to screen commercial vehicles for tire anomalies. When a tire rolls over a sensor, the contact patch where the tire puts pressure onto the roadway can detect flat, missing, mismatched or underinflated tires.
Jackson said when a truck is flagged for a tire anomaly, it is pulled into the weigh station parking lot for inspection. The TACS system shows inspectors exactly which tire needs attention, and that truck is placed out of service until the problem is fixed.
The Virginia Department of Motor Vehicles said it removed 13,000 unsafe tires from commercial vehicles traveling on Interstate 81 in just one year of using the system at its Stephens City Motor Carrier Service Center near Winchester. The agency has decided to install the technology at its Troutville Motor Carrier Service Center on I-81 near Roanoke and its Alberta Motor Carrier Service Center on I-85.
Illinois State Police Master Sergeant Todd Armstrong said, like North Carolina, Illinois started with one system. Now, it has 14.
"Our goal within the next two years is to get them (installed at) every interstate scale," Armstrong said.
He said the system has been extremely effective. Prior to using TACS, Armstrong said inspections were visual, which means many tire problems can be missed. Now, each TACS detects 30 to 35 trucks with tire abnormalities per eight-hour shift on average, he said.
"Just like any other inspector in the nation, either you observe what looks to be a tire that's off the bead or a tire that's flat or just by happenstance stop one for an inspection and find one," Armstrong said. "There's no real art to it … so the numbers with our flat tires have skyrocketed."
Tires were among the top five of the 9,691 out-of-service vehicle violations issued in 2021, according to CVSA International Roadcheck. In North America, tires accounted for 18.6% OOS violations, and they accounted for 19.8% in the U.S.
Inflation level isn't itself an OOS violation unless the tire is legally flat, but overinflation and underinflation are leading contributors toward other citations as they can lead to avoidable and sometimes fatal accidents.
Tire anomalies and flat tires decrease directional control, increase the risk of commercial vehicle accidents, reduce tire life and negatively affect fuel economy. Mismatched and missing tires result in vehicle imbalance, improper load distribution and potential safety issues.
Fedechko said between 1% and 2% of the trucks that go through a TACS are detected as having a problem.
"Tire blowouts can cause serious crashes," said Virginia DMV Commissioner Richard D. Holcomb. "By detecting unsafe tires, most times before a truck driver even knows there is a problem, we can prevent crashes from occurring and save lives."
Armstrong said it is one of the most innovative safety tools he has seen in his career as technology has changed over time.
Jackson said commercial truck screening ability has increased over the last few decades with weigh-in-motion technology, scanners for paperwork and more, and it has made inspections more efficient and cost-effective.
"With road traffic increasing ever so more, it's important for us to be able to filter out the vehicles that don't need to go into an inspection station and leave them out on the mainline," he said.
Goodyear also recently released similar technology with its Goodyear TPMS Plus, which is an active monitoring system that evaluates tire conditions in real time, and its Goodyear CheckPoint, a drive-over reader technology that provides automated inspections of tire pressure and tread depth.
But Goodyear said trucking companies are the primary users of its technology while state agencies are the primary users of TACS. But Fedechko said IRD has also had some interest from trucking fleets and companies for TACS, and the company is working to develop an application that might fit that part of the market.
He said part of what is driving demand for TACS is many other types of technologies that detect problems often have some false positives or false negatives.
Armstrong said many of Illinois' neighboring states are beginning to install TACS because of its accuracy and benefits.
"I would have never believed that we had this many tire abnormalities running up and down the roadways," he said. "It's crazy to see (the system) catch them, and you go out, and yeah they're flat. It's pretty amazing."
Fedechko said IRD has experience "an explosion of interest and deployment."
In 2018, the company deployed TACS to six sites. There have now been 40 or more systems deployed across the U.S. and a few in Canada, he said.